3 easy frittata recipes to make at home

Isabel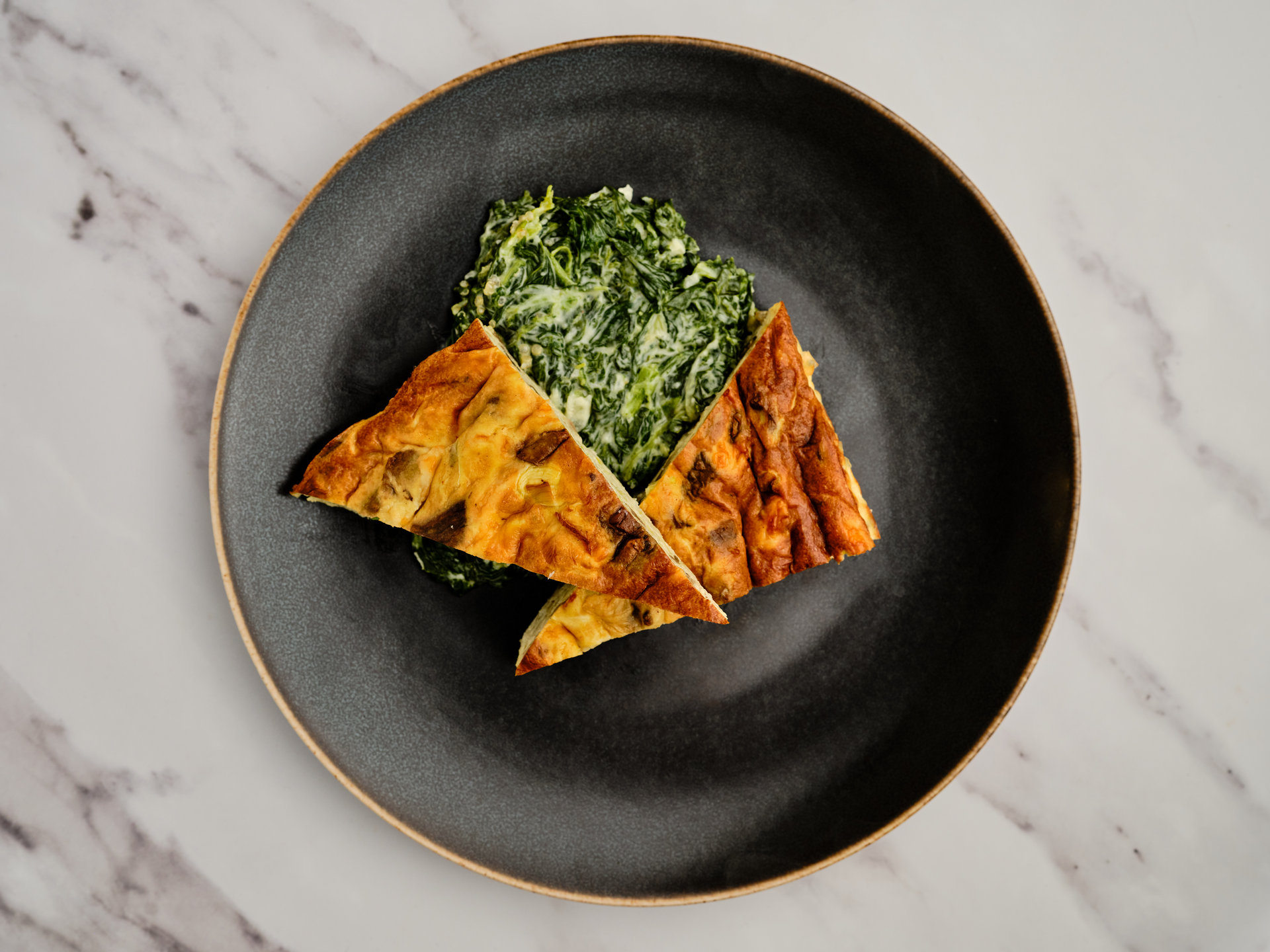 A frittata can be a perfect option for an easy weekday meal. Plus, there are loads of different ways to make it, so you never get bored.
What is a frittata?
A frittata is a traditional Italian egg-based dish, that falls somewhere between an omelette and a quiche. It consists of a variety of vegetables fried in a pan, covered in a thick layer of egg, and then finished by baking in the oven.
What ingredients do you need for a frittata?
A frittata can be made in loads of different flavours, making it a great way to use up leftovers. It can be filled with healthy vegetables, potato, herbs and with or without cheese.
The basic ingredients for a frittata to serve 4 are:
4 large potatoes
6 medium sized eggs
Your choice of filling
When it comes to the filling, here are our top 3 flavour combinations:
asparagus and spring vegetables
gruyere, bacon, and alpine vegetables
spinach and feta with nutmeg
Read on for instructions on how to make yours at home.
How to make a frittata:
A basic frittata is very simple, there's just 5 steps:
Step 1: Prep your potatoes.
Peel and cube some potatoes & boil them up with your choice of vegetables for 5 minutes, or until just soft enough to eat. Note the potatoes will cook more in the oven so you want to keep them firm at this point. If you're looking for a low-carb meal, you can swap the potatoes for cauliflower or another low-carb vegetable.
Step 2: Prep your filling.
This step will depend on your choice of filling, see below for some of our favourite options. Remember that whichever recipe you choose, your vegetables should be only just cooked, because like the potatoes they will cook more in the oven.
Step 3: Beat your eggs.
Beat the eggs using a fork or a handheld whisk until the yolk and white are well combined. Add your choice of filling and mix well. Season your eggs with salt and pepper.
Step 4: Combine everything.
Combine all your ingredients and pour them into a large oven proof frying pan for about 2 minutes, until just firm on the bottom. Always pre-heat your pan with a drizzle of cooking oil. Where possible choose a non-stick frying pan that is oven safe, so you avoid having to transfer your frittata to put it in the oven.
Step 5: Bake & serve.
Move your frittata to the oven and bake for 10 to 15 minutes until the egg has cooked though. The frittata should be soft to cut through but not runny.
How do I prepare my choice of filling?
Spinach and feta
Ingredients to serve 4:
200g spinach
150g feta
1 large onion
3 cloves of garlic
ground nutmeg
Fry some onion and plenty of garlic in a hot pan. Thoroughly rinse some fresh spinach and add it to the pan for 2 minutes until it's wilted. Add some ground nutmeg, black pepper, and crumble feta across the top, ready to combine with your egg mixture.
Gruyere, bacon, and alpine vegetables
Ingredients to serve 4:
2 leeks, half a cabbage
100g bacon lardons
80g gruyere
20g tarragon
butter for frying
Thinly slice some leeks and dice some cabbage. Add bacon lardons and fry everything in a hot pan with a knob of butter for 5 minutes, until the leeks are soft. Add your grated gruyere and a generous handful of tarragon leaves, and your filling is ready.
Asparagus and spring vegetables
Ingredients to serve 4:
100g asparagus
100g green beans
100g peas
100g ricotta
20g mint
Cut the ends off your asparagus and your green beans. Add these and some peas to boiling water for about 3 minutes. Remove from the boil and cut into 3-centimetre pieces. Finely chop some mint for added freshness and ricotta for a light and creamy flavour.
How should I serve my frittata?
You should be able to carefully slide the frittata onto a serving plate so that everyone can be given a healthy slice. Add a side salad for even more healthy nutrients and bon appétit!
If you're looking to do something to impress, you can also make mini frittata to serve for breakfast or at dinner parties. Simply follow the steps above but instead of a frying pan, pour the potato and egg mixture into a pre-heated and well-oiled muffin tin. Bake in the oven at 180 C for about 15 minutes.
What's the difference between a frittata and a Spanish omelette or tortilla?
The Italian frittata and Spanish tortilla are very similar. Both are thick omelettes that can be packed with a range of vegetables and potatoes. The key difference is that a frittata is finished in an oven while a tortilla is flipped in the pan so that it gets heated on both sides.
About Powermeals
At Powermeals we're on a mission to make healthy eating easy for everyone. Designed by chefs and nutritionists our healthy meal delivery service is available all over Switzerland. Check out this week's menu.