Halloumi salad recipe with pineapple and quinoa

Isabel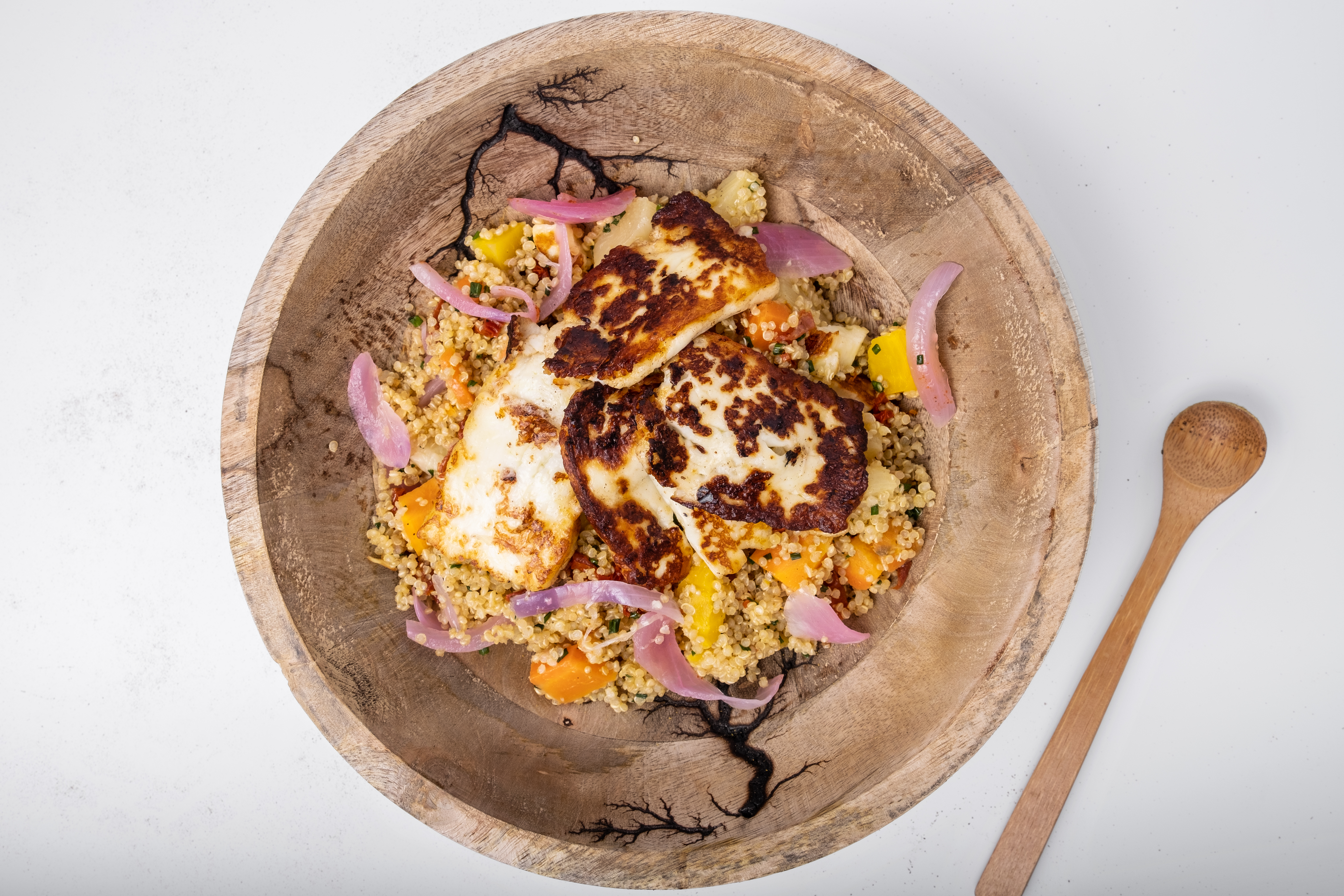 Get the recipe for one of our favourite Summer salads with sweet pineapple, fresh sundried tomatoes and salty halloumi.
Ingredients (Serves 2)
150g of quinoa
500ml of vegetable stock
200g halloumi
4 medium carrots
One jar of sundried tomatoes
Half a fresh pineapple or 200g of tinned pineapple
10g of chives (a large handful)
1 small red onion
Cayenne pepper
20ml of white balsamic vinegar
Method
Step 1: Cook the quinoa
Add the quinoa to a pan with 300ml vegetable stock and boil, leaving the pan uncovered. Once all the water has absorbed (about 15 minutes) fluff with a fork and set aside to cool.
Step 2: Roast the carrots
Slice your carrots lengthwise and then chop them into 2 cm pieces. Cover with a dash of olive oil and a sprinkling of salt then roast in a hot oven (180 degrees) for 20 minutes.
Step 3: Slice the remaining ingredients
Slice the sun dried tomatoes into strips, finely chop the chives, peel and cut the pineapple into bite-sized pieces. Alternatively you can use tinned pineapple to reduce prep time, this will be slightly softer and sweeter compared to using a fresh pineapple.
Step 4: Dress the salad
Add a splash of olive oil, a pinch of salt, and a pinch of cayenne pepper. Mix everything together to allow your quinoa salad to infuse with the flavours.
Step 5: Add the toppings
Halve and thinly slice a small red onion. Place it in a bowl with the white balsamic vinegar and let it macerate for 15min. While that sits to one side, slice the halloumi into half centimeter wide slices, and grill directly on a hot pan for 2 minutes each side, there's no need to add any oil. Arrange the onion and halloumi on top of your salad and serve.
About Powermeals
Our mission is to make healthy and quality eating easy for everyone. We produce home cooked, ready-made meals and deliver direct to your door in a weekly box.