Healthy & quick Brunch ideas ready in no time

Isabel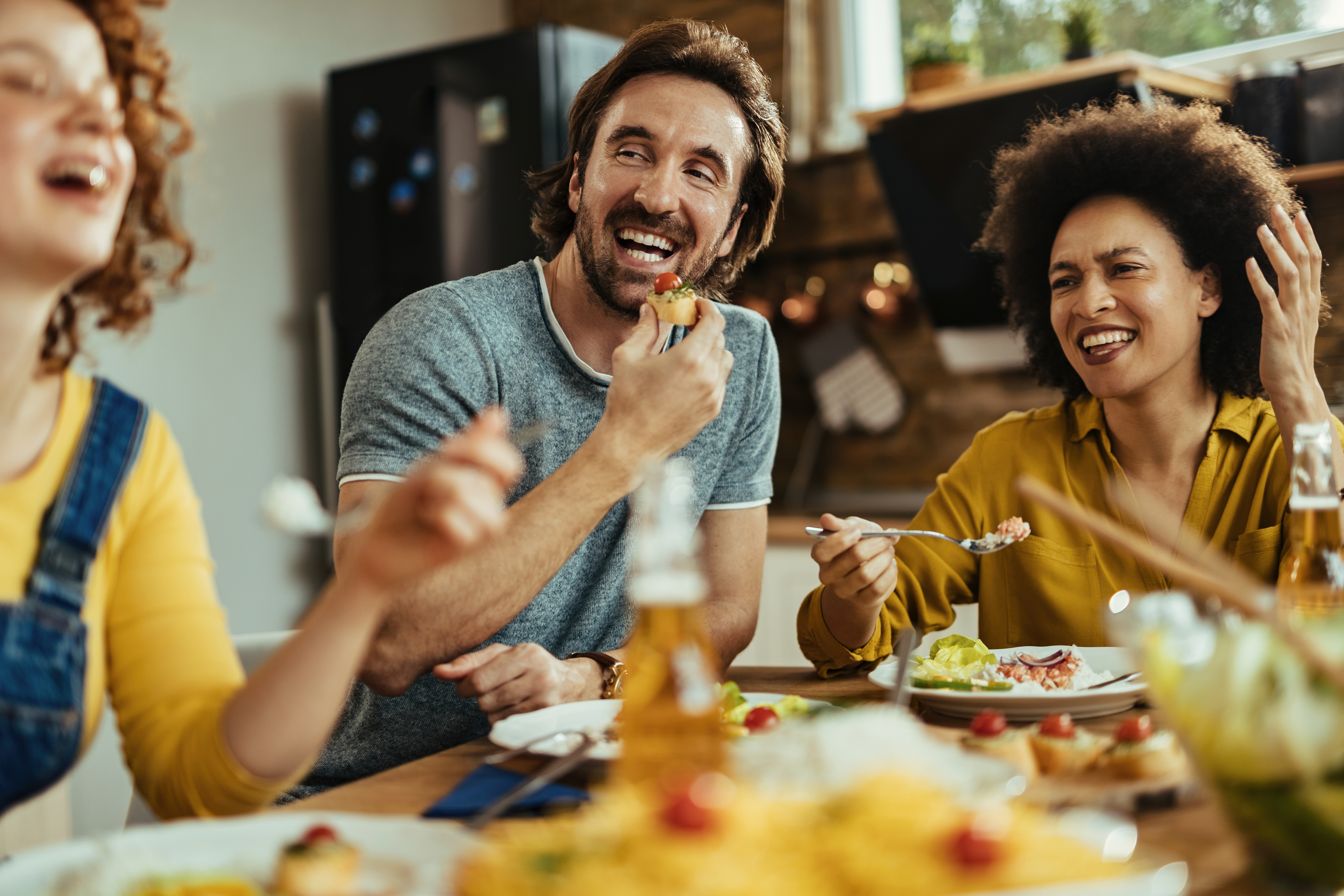 Easter brunch planned and in need of some foolproof last-minute and easy recipes? We have you covered with our favourite brunch recipes you can make in less than 30 minutes.

The best part? None of these dishes look rushed or last minute. Let your friends and family believe that you've been working away forever, when really you just started cooking about 20 minutes ago… ;)
Banana-Bran Muffins
By the end of the week, any bananas left in the fruit bowl are past their prime? Just right for these moist bran muffins. Add a handful of dark chocolate chips to enjoy a fiber-rich treat.
Ingredient Checklist:
2 large eggs
2/3 cup packed light brown sugar
1 cup mashed ripe bananas (2 medium size)
1 cup buttermilk
1 cup unprocessed wheat bran
1/4 cup canola oil
1 teaspoon vanilla extract



Instructions:
Preheat oven to 200° degrees. Coat 12 muffin cups with cooking spray.
Whisk eggs and brown sugar in a medium bowl until smooth. Whisk in bananas, buttermilk, wheat bran, oil and vanilla.
Whisk whole-wheat flour, all-purpose flour, baking powder, baking soda, cinnamon and salt in a large bowl. Make a well in the dry ingredients; add the wet ingredients and stir with a rubber spatula until just combined. Stir in chocolate chips, if using. Scoop the batter into the prepared muffin cups (they'll be quite full). Sprinkle with walnuts, if using.
Bake the muffins until the tops are golden brown and spring back when touched lightly, 15 to 25 minutes. Let cool in the pan for 5 minutes. Loosen edges and turn muffins out onto a wire rack to cool slightly before serving.


Veggie Frittata
One of the best ways to use up leftover vegetables, cheese and herbs is by making a vegetable frittata. It's pretty much like a baked omelette or a crustless quiche.
Ingredient Checklist:
8 large eggs
500g of any leftover potatoes and veggies
2 spoon of Oil for the pan
bit of salt and pepper for seasoning
Cheese if needed
Instructions:
Peel and cube the potatoes & boil them up with any left over veggies for 5 minutes, or until just tender.

Whisk the eggs with herbs and cheese (if using) until well combined. Add in the potatoes & veggies. Season generously with salt and pepper.

Heat your pan and drizzle with oil. The key for a great frittata is a very hot no stick frying pan.

Pour the mixture into the pan. Cook with the lid on for about 5 minutes. Gently shaking the pan every now and then. When the surface of the frittata looks cooked through, the frittata is almost ready. Flip the frittata and cook it without the lid, for a further 2 minutes

Remove the pan from the heat and carefully slide the frittata onto a serving plate- bon appétit everyone
Strawberry Basil
Margarita
This strawberry basil margarita is a fun twist on the classic margarita. It's a sweet, tart and refreshing cocktail, perfect for celebrating.
Ingredient Checklist:
Sugar rim
1 tbsp

lime juice

1 tbsp

coarse cane sugar
Cocktail
2 cl

tequila

2 cl

Grand Marnier

80g

strawberries, cut in half

½ tbsp

coarse cane sugar

a little

ice cube, crushed

2 sprigs

basil




Instructions:
Sugar rim
Place the lime juice in a deep bowl and the sugar in a shallow bowl. Dip the rims of the glasses in the lime juice and then in the sugar.
Cocktail
Place the tequila, Grand Marnier, strawberries, sugar and a little crushed ice in a blender. Remove the leaves from 2 sprigs of basil, add, puree for approx. 30 secs. Place a little of the crushed ice in a glass, top up with the cocktail. Garnish with the remainder of the basil.
Hashbrown Egg Nests
We're kind of in love with these bites. And the best part may just be those hash browns.
Ingredient Checklist:
500g

potatoes

¾ tsp

salt

4 fresh eggs

½ bunchflat-leaf parsley
¼ tsp sweet paprika
2 tbsp clarified butter
salt & pepper for seasoning
Instructions:
Peel and grate the potatoes,

place in a bowl, season with salt.

Leave to absorb for approx. 15 mins.

Squeeze out the potatoes thoroughly by hand.

Separate the eggs, transfer each egg yolk to a cup or small bowl, set aside. Using the whisk on a mixer, beat the egg whites in a bowl until stiff. Roughly chop the parsley, combine half with the beaten egg whites, mix into the potatoes in layers, season.

Heat the clarified butter in a wide, non-stick frying pan. Place the potato mixture in the pan in four mounds, reduce the heat, cover and fry for approx. 5 mins. Remove the pan from the heat, create a well using a tablespoon, carefully slide in the egg yolks, cover and cook for a further 10 mins. Remove, plate up, garnish with the remainder of the parsley, season.




Baked Potato with egg
Great and healthy way to use up the extra sweet potatoes and easy to prep ahead of time.
Ingredient Checklist:
1 kg

sweet potato

1 tbsp

olive oil

1 tsp

sea salt

8 slices bacon (approx. 100 g), if needed
8 fresh eggs
1 spring onion, cut into rings
Instructions:
Microwave a potato for roughly 8 minutes.

Make a hollow with a tablespoon, place a rasher of bacon inside each and carefully add 1 egg.

Finish cooking it in the oven for a

pprox. 10 min. Garnish with the spring onions.
About Powermeals
At Powermeals we're on a mission to make healthy eating easy for everyone. Designed by chefs and nutritionists our healthy meal delivery service is available all over Switzerland. Check out this week's menu.