Salmon rillette recipe with tabbouleh and Greek vegetables

Isabel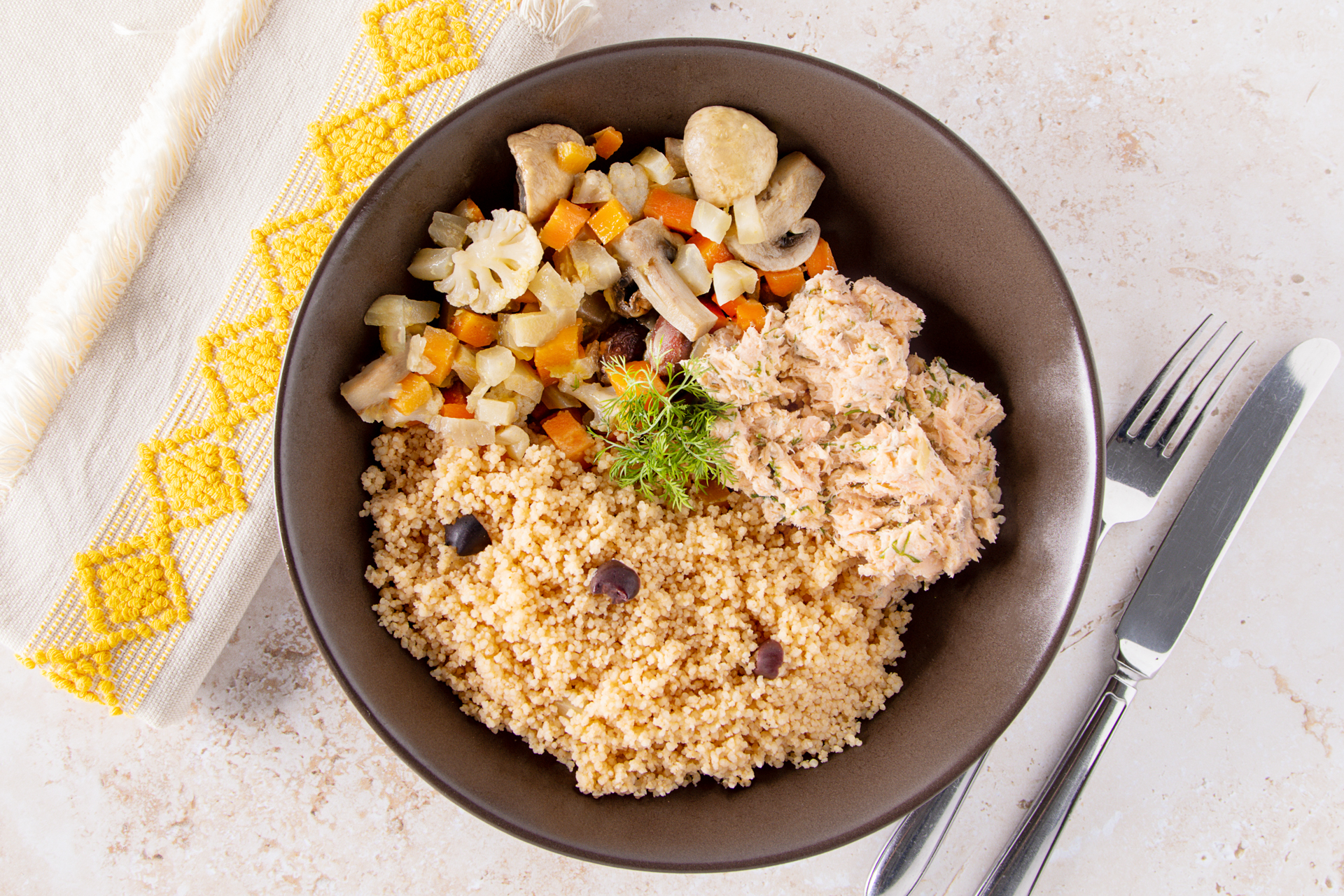 Learn how to cook our delicious salmon dish with fresh dill and a kick of vinegar. This dish is packed with vegetables so you can tick off all of your five a day in one meal. Served cold, this is a great recipe for Summer or a warm Autumn day.
Ingredients (Serves 2)
2 salmon fillets
2 lemons
1 tbsp tomato puree
1 jar of kalamata olives
2 carrots
1 fennel bulb
100g of mushrooms
½ a cauliflower
10g fresh thyme
10g dill
3 tsp ground coriander
3 tsp ground aniseed
2 tbsp cider vinegar
300 ml of stock
150g of couscous
Olive oil
Method
Step 1: Cook and cool your salmon
Remove any salmon skin, season with salt and pepper and steam above a pan of boiling water with a tight lid for around 8 minutes. Place in the fridge to cool.
Step 2: Prepare your cous cous
In a bowl combine the couscous with 300ml of boiling water, cover and leave for 5 minutes until all the water is absorbed. Add the juice of 1 lemon, a tablespoon of tomato puree, a pinch of salt and a dash of olive oil to your couscous and stir with a fork. Finely slice half of your kalamata olives and mix them through.
Step 3: Boil the Greek vegetables
In a pan combine the stock, 2 tbsp of cider vinegar, the juice of one lemon, the coriander and the aniseed and bring to the boil. Slice the carrots, fennel and cauliflower into 2 cm cubes and add to the pan. Slice the mushrooms into quarters and add to the pan. Cover and cook for 3 minutes. Drain and add a dash of olive oil and the rest of your kalamata olives, then leave to cool.
Step 4: Create your rillette
Take the cooled salmon out of the fridge and crumble it. Mix with finely chopped dill, a dash of olive oil and the juice of the other lemon. Serve your salmon on a bed of couscous with a side of Greek vegetables for a fresh Summer dish.
About Powermeals
Our mission is to make healthy and quality eating easy for everyone. We produce home cooked, ready-made meals and deliver direct to your door in a weekly box.