The Best Vegetarian Lasagna Recipe: Secrets from Our Kitchen

Isabel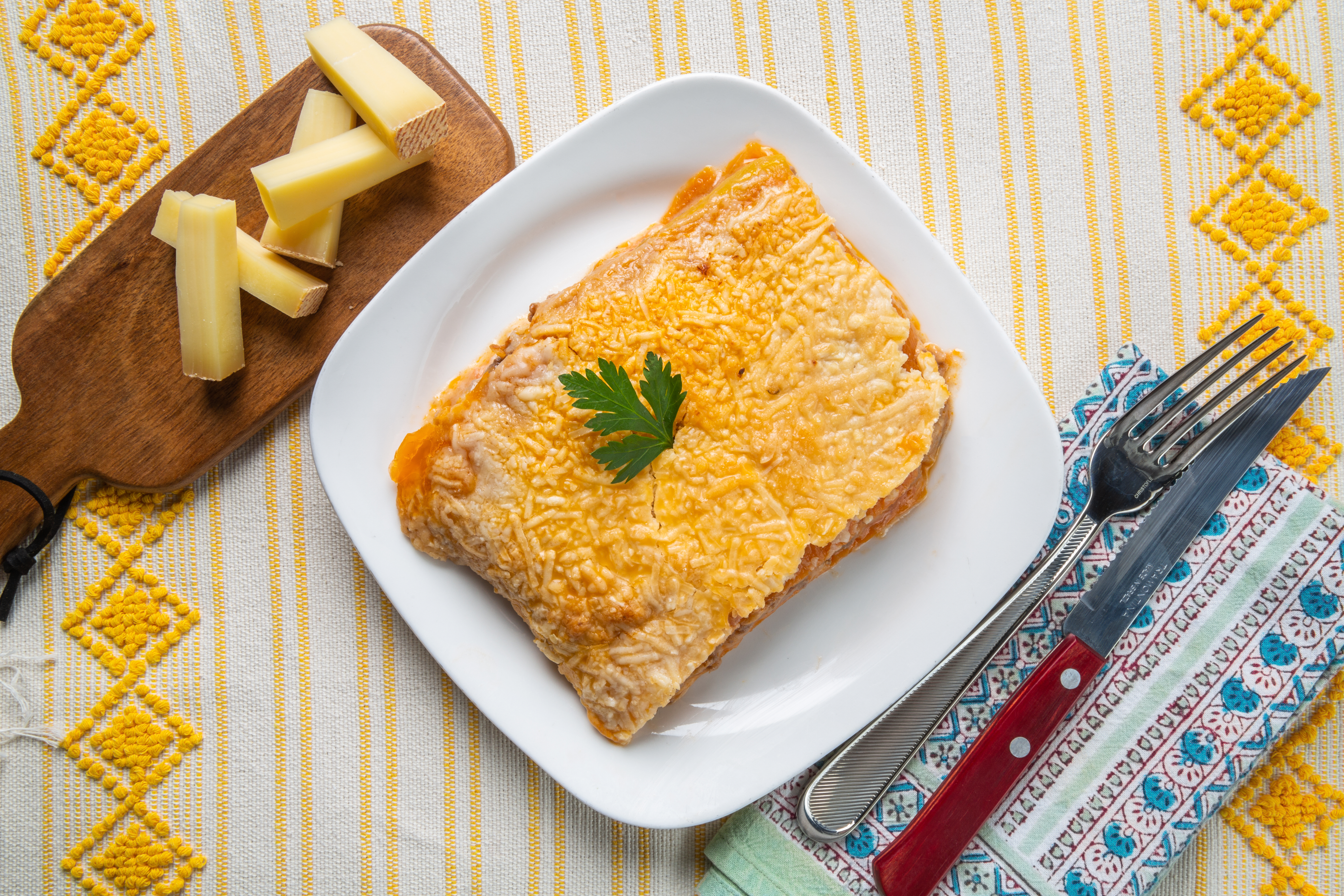 Lasagna, that comforting and hearty Italian dish, is a favourite for many. But what if you're a vegetarian and still want to enjoy all the delicious layers of pasta, sauce, and cheesy goodness? Well, we've got you covered! In this blog, we're sharing our secret recipe for the best vegetarian lasagna, and the star of the show is lentils. Get ready to discover the secrets from our kitchen and savour a truly satisfying meal.
Ingredients You'll Need:
For the Lentil Bolognese Sauce:
1 cup of dried green or brown lentils
2 tablespoons of olive oil
1 onion, finely chopped
2 cloves of garlic, minced
2 carrots, finely chopped
2 celery stalks, finely chopped
1 courgette (zucchini), finely chopped
1 bay leaf
1 teaspoon of dried thyme
1/2 cup of white wine
1 can (28 ounces) of crushed tomatoes
2 tablespoons of tomato paste
1 teaspoon of sugar
Salt and pepper to taste
For the Bechamel Sauce:
3 cups of milk
4 tablespoons of butter
4 tablespoons of all-purpose flour
A pinch of nutmeg
Salt and pepper to taste
Other Ingredients:
Lasagna pasta sheets
Grated Parmesan cheese
Instructions:
1. Prepare the Lentil Bolognese Sauce:
Rinse the lentils under cold water and drain them.
In a large saucepan, heat the olive oil over medium heat.
Add the chopped onion, garlic, carrots, celery, and courgette. Sauté until the vegetables are softened but still crunchy, about 5 minutes.
Add the lentils, bay leaf, thyme, and white wine. Stir and let it cook for a couple of minutes until the wine reduces.
Stir in the crushed tomatoes, tomato paste, and sugar. Season with salt and pepper.
Reduce the heat to low, cover, and simmer for about 30-40 minutes, or until the lentils are tender and the sauce has thickened. Remove the bay leaf and set the sauce aside.
2. Make the Bechamel Sauce:
In a separate saucepan, melt the butter over medium heat.
Stir in the flour to create a roux. Cook, stirring constantly, for about 2 minutes until the roux is pale golden.
Gradually whisk in the milk to avoid lumps. Continue to whisk until the sauce thickens, about 5-7 minutes.
Season the Bechamel sauce with a pinch of nutmeg, salt, and pepper. Set it aside.
3. Assemble the Lasagna:
Preheat your oven to 375°F (190°C).
In a baking dish, spread a thin layer of the lentil Bolognese sauce.
Place a layer of lasagna pasta sheets on top of the sauce.
Add a layer of lentil Bolognese sauce, followed by a layer of Bechamel sauce. Repeat this process until your ingredients are used up, finishing with a layer of Bechamel sauce on top.
Sprinkle grated Parmesan cheese generously over the Bechamel sauce.
4. Bake and Serve:
Cover the baking dish with aluminium foil and bake for 25 minutes.
Remove the foil and bake for an additional 10-15 minutes until the top is golden and bubbling.
Let the lasagna rest for a few minutes before slicing and serving.
Now you have the key to a mouthwatering vegetarian lasagna that's loaded with flavour and heartiness. The lentils provide a rich and satisfying texture, and the layers of creamy Bechamel sauce take it to the next level.
Pair this lasagna with a fresh salad and some garlic bread for a complete Italian feast. Whether you're a vegetarian or simply looking for a delicious twist on a classic, this recipe is sure to become a favourite in your kitchen. Enjoy!
Tired of cooking?
Check out our meal delivery service and get tasty, home cooked meals delivered directly to your door.