Massaman curry recipe: what does it taste like and how is it made?

Isabel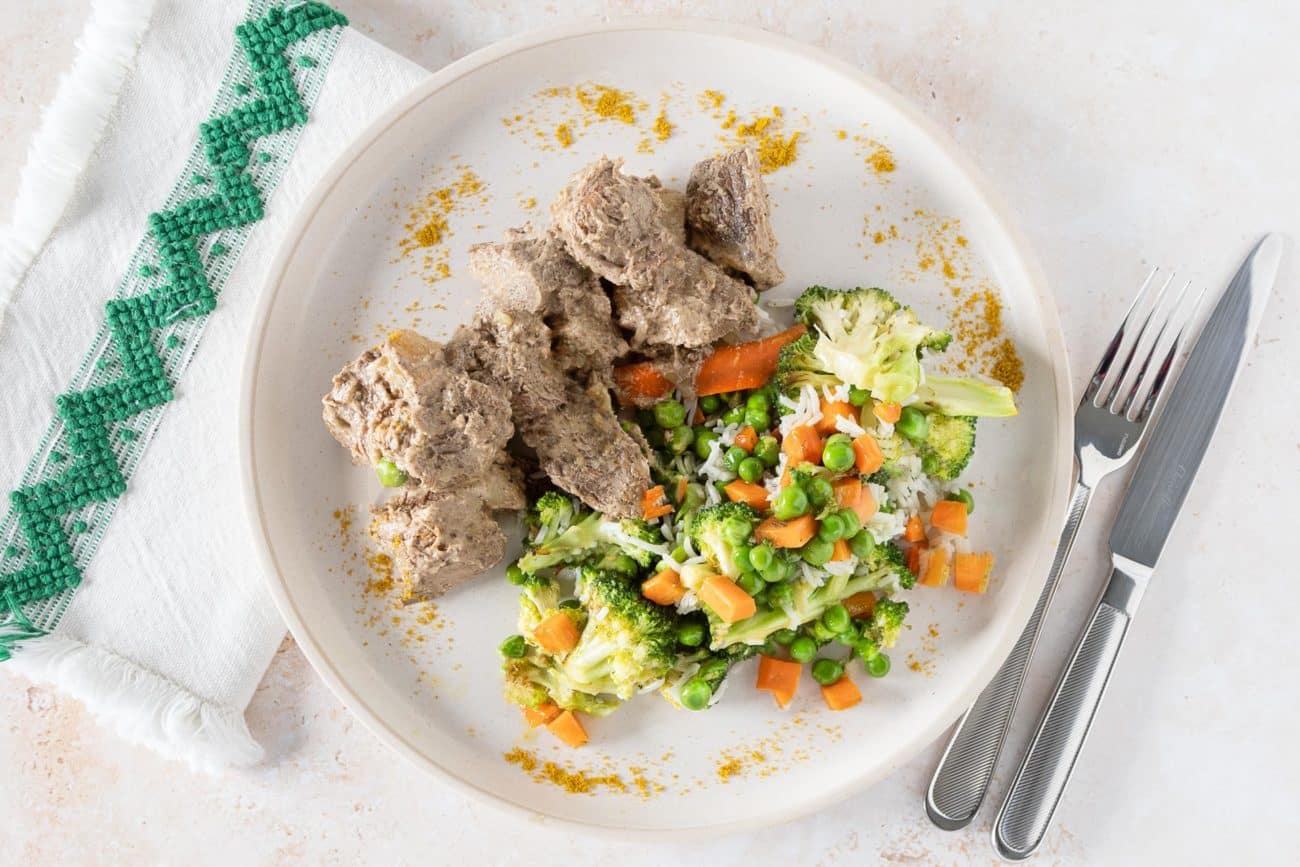 Massaman curry is a traditional Thai curry containing meat and potatoes, with a base of coconut milk. It's a mild curry but packed with spices such as cinnamon, cumin, coriander and clove. Find out more about it's origins and follow Powermeal's easy recipe.
The origins of Massaman curry
Massaman curry has existed in some form for centuries, originating in Muslim communities in Siam. The earliest written recipe was created in 1889 by Lady Plean Passakornrawong the wife of Sheikh Ahmad, a Siamese nobleman.
Her authentic recipe starts with chicken being simmered in coconut milk. A large number of traditional Thai spices (nutmeg, Thai cardamom, coriander root, chili, lemongrass and more) are fried in pork fat with fermented shrimp paste and mixed through the chicken. To finish, shallots, sultanas and tamarind paste are stirred in and bitter orange juice is added just before serving.
The result would have been a rich, flavourful curry that was slightly more bitter and less sweet than the typical version you get today.
Easy Massaman curry recipe
Ingredients
For the curry paste:
One long red chili pepper (not too spicy)

2 shallots

4 garlic cloves

2 cm of fresh ginger or galangal

1 tbsp ground coriander

1 tbsp ground cloves

2 tbsp ground cumin

2 tbsp cinnamon

2 tbsp lemongrass

2 tbsp olive or sunflower oil
For the curry:
600g diced beef

300g diced potatoes

One large brown onion or two shallots

400ml of coconut milk

2 tbsp tamarind paste

A large handful of fresh coriander

1 tbsp or a cube of beef stock
Note: we have used beef in our recipe but the curry paste is delicious with lamb or chicken if you don't feel like beef. You can also use tofu for a tasty vegetarian alternative.
Preparation
Step 1: Blend the curry paste
Peel the garlic and ginger, slice the shallots into chunks, remove the stem and seeds from the chili. Add these and all the other ingredients for the curry paste to a blender and pulse until you have a fine paste. The paste should be thick but spreadable so add a dash more oil if needed.
Step 2: Seal the beef and fry the onions
Heat some oil in a wok or thick bottomed frying pan. Finely slice some onion and add them and the diced beef to the pan. Fry until the beef is lightly browned on all sides.
Step 3: Activate the curry paste
Add the curry paste, stir to coat the beef and fry for a further minute. Top tip: if your pan is very hot you can add a small dash of coconut milk to make sure the spices don't burn.
Step 4: Build the sauce
Tip in the rest of the coconut milk, add the stock and a dash of boiling water. Add the diced potatoes and stir in the tamarind paste. The beef and potatoes should be just covered by the liquid, if not add a little more water.
Step 5: Simmer
Cover the pan with a lid and simmer for 1 to 2 hours until the beef is tender and can be ripped apart by a fork.
Step 6: Season and enjoy
Season with salt and pepper. You may also want to add a dash of sugar if you find the tamarind flavour too sour. Sprinkle the fresh coriander across the top and it's ready to eat.
What should it taste like?
Massaman curry is rich and full of flavour from all the spices. The meat should be tender and falling apart after boiling in the coconut milk. The curry sauce should taste slightly sweet from coconut milk and cinnamon and the tamarind paste should bring just a hint of sourness.
How hot is Massaman curry?
Typically Massaman curry is very mild. In our recipe we use a single mild chili pepper to add flavour rather than heat. If you love spice you can always add some extra chilli flakes to the top!
Does Massaman curry contain dairy?
While the curry is creamy in taste this flavour comes from coconut milk, the curry is actually 100% dairy free. It's safe to eat if you're lactose intolerant and it's gluten free. You can also swap beef for tofu or vegetables for a great vegan dish.
Is Massaman curry good for you?
Spices: cloves, ginger, garlic are all packed with nutrients that can support a balanced diet and healthy lifestyle. Beef is also a great source of iron which is essential for the development of red blood cells. However, since potato is a key ingredient, Massaman curry does contain more carbohydrates than many other curries. We recommend serving with it a smaller portion of rice and lots of vegetables to ensure a balanced meal.
A plate of our beef Massaman curry accompanied with rice, broccoli, carrots and peas contains:
85g carbohydrate

41g fat

27g protein

8g fibre
Tired of cooking?
Check out the Powermeals menu and get tasty, nutritious meals delivered directly to your door. You'll find our delicious Massaman curry and a host of other Asian dishes.