Casimir rice: the Swiss curry you need to try

Isabel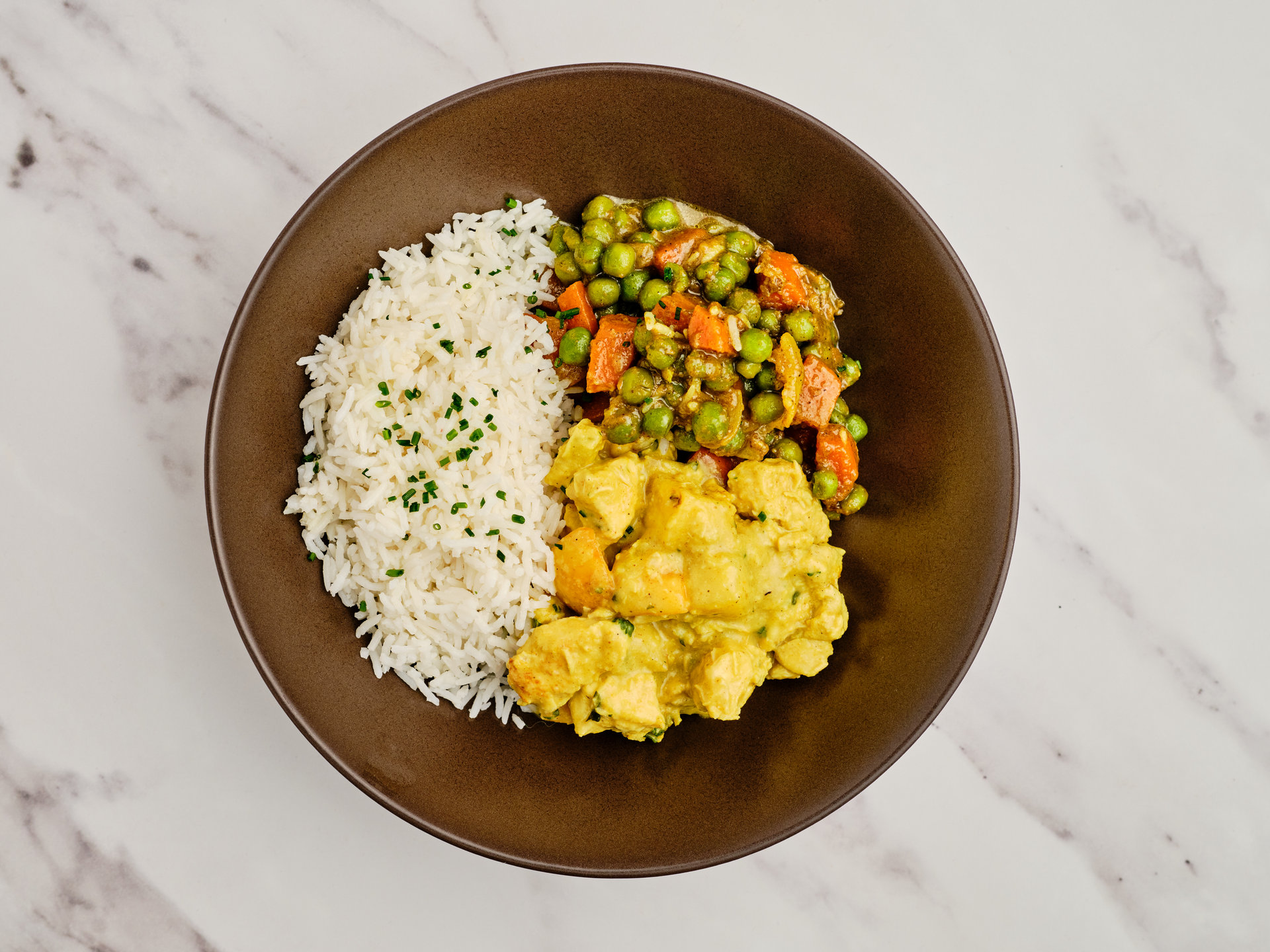 Casimir rice, a recipe that sounds exotic, but actually originated right here in Switzerland, has a few surprises in store for you. A true icon of Swiss cuisine, read on to discover its history and you can even try it at home with our easy recipe!
What is Casimir rice?
At the heart of this dish is basmati rice, lightly fragrant and fluffy, which provides the backdrop for a delicious combination of flavours. The rice is topped with pieces of chicken or turkey, cooked and seasoned with curry spices. Then a sauce is added to binds all the elements together, a creamy curry sauce, topped with peanut butter for a rich texture and slightly sweet flavour. Finally, to add a note of freshness and sweetness, exotic fruits such as banana slices and pineapple chunks are placed on top. Toasted almonds are sometimes added to decorate the dish. The result is a comforting meal that's also a perfect autumn recipe for colder days!
The origins of Casimir rice
In the 1950s, after the war, the owner of the famous Mövenpick group (Ueli Prager) put a new dish on his restaurant menu: Casimir rice. The origin of this name is somewhat debated. Some think that it's a reference to the Kashmir region in India, where the curry spice comes from, however, others say it's simply a made up name that sounded exotic and would boost the sales.
This dish is designed to combine the exoticism of curry spices and a range of exciting fruits with the Swiss tradition of cream, readily available in local farms. The result is a dish suited to the European palate, a mild and fragrant curry.
After it's initial invention Casimir rice made a name for itself thanks to it's inclusion in Elisabeth Fülscher's cook book in 1960. It was immediately adopted by the Swiss and even became an emblem of Swiss cuisine. Casimir rice became a popular recipe to make at home, and was also served in restaurants, in canteens for office lunches, in the army and even on trains!

Although Casimir rice is still renowned today, its popularity has largely declined due to the mass arrival of international dishes in Switzerland, meaning it had to compete on the menu with truly international dishes. The exoticism of Casimir rice may have somewhat faded away when faced with more authentic dishes like Massaman curry or tandoori chicken. However, despite a wider range of options, Casimir rice remains a popular dish, bringing back childhood memories for a whole generation of Swiss people.
Source: BettyBossi
Our Casimir rice recipe
Ingredients (Serves 4)
For the chicken:
400g diced chicken breast
1 tablespoon curry powder
2 tablespoons olive oil
Salt and pepper to taste
For the sauce:
2dl half cream
250ml chicken stock
1 teaspoon curry powder
1 pinch cayenne pepper (optional if you aren't a fan of spice!)
For the rice:
300 g basmati rice
Salt to taste
For the topping:
1 banana, sliced into rounds
100g pineapple, chopped
100g roasted almonds
Method
Step 1: Prepare the chicken

First, heat the olive oil in a frying pan over a medium heat. Add the diced chicken, sprinkled with curry powder, salt and pepper. Cook the chicken until golden and cooked through. Set aside.

Step 2: Prepare the sauce

Heat the cream in a saucepan over a low heat. Add the chicken stock, curry powder and cayenne pepper (if you like a bit of heat!). Mix the sauce well until smooth. Simmer over a low heat for a few minutes.

Step 3: Prepare the rice

Rinse the basmati rice in cold water, repeating until the water runs clear. Bring 600 ml of salted water to the boil in a saucepan. Add the rice, reduce the heat, cover and leave to cook for around 15 minutes, or until the rice is tender and all the water has been absorbed.

Now all your ingredients are ready!

Step 4: Assembling the dish

Arrange the cooked rice in a large serving dish. Then place the cooked chicken pieces on top of the rice. Pour the curry sauce over the chicken and rice and finally garnish with the banana slices, pineapple chunks and grilled almonds.


Voila, your Casimir rice is ready. Enjoy this delicious and comforting recipe with your family and friends and know that you're tasting an icon of Swiss cuisine. Bon appétit!
Is Casimir rice good for your health?
Casimir rice is a very rich dish, particularly due to the use of cream in the recipe. It is therefore not a very suitable weight loss meal. However, it is possible to use a healthier alternative to cream, such as coconut milk, to make the dish lighter.
On the other hand, it does contain a wide variety of good-for-you nutrients, with lots of vitamins thanks to the fruit. If you add bananas they're a great source of potassium, and pineapple chunks are high in vitamin C which can help boost the immune system. The chicken and cream are also high in protein so it's a good option if you're looking for a fitness meal that's a bit more filling before or after a workout.
So in general Casimir rice is a meal that's built for pleasure, but in moderation or with a few minor tweaks it can still be part of a healthy diet.
Is Casimir rice spicy ?
No, unlike most other curries, Casimir's rice is not spicy, in particular because it uses cream and mild curry spices. It was designed to be well suited to the Swiss palate.
About Powermeals
If reading about Casimir rice has made your mouth water, but the idea of cooking has filled you with dread, let us do the hard work! Powermeals offer chef-cooked meal delivery all over Switzerland, all you need to do is reheat your dishes and enjoy. You'll find lots more recipes in our seasonal menu.