Katsu curry: what is it and how can you make your own?

Isabel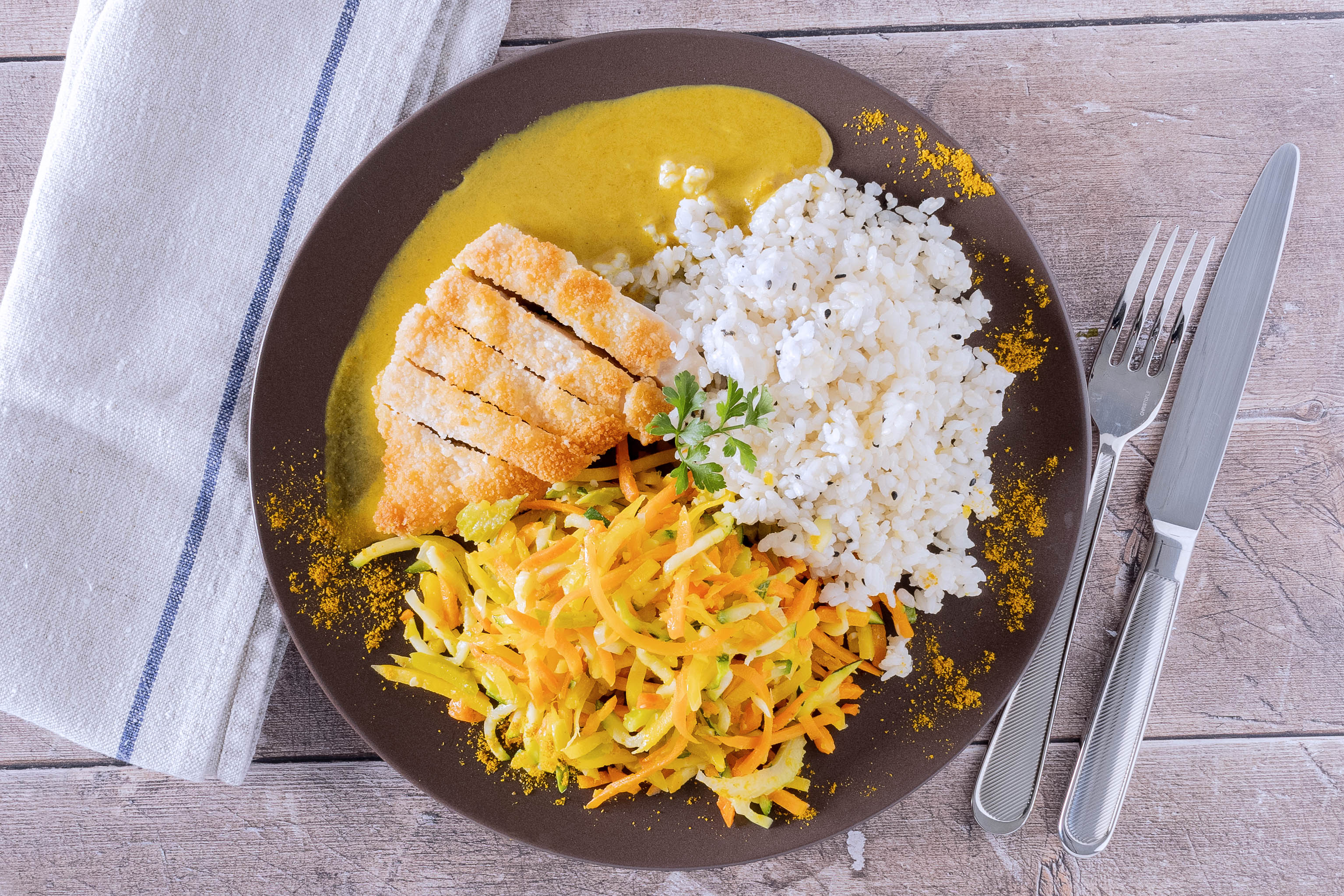 Whether you already love Japanese cooking or you're looking to try something new, our chicken katsu curry recipe is bound to be a crowd pleaser. Plus you it only takes around 30 minutes from start to finish (chopping included).
What is a katsu curry?
In Japanese "katsu" literally means cutlet. A katsu curry typically consists of a sliced cutlet of meat that's been breaded and is served with a curry sauce. This sauce is usually a sweet umami flavour with fragrant spices giving it a yellow brown colour.
What are the origins of katsu curry?
The dish is said to have originated in Tokyo in the 1940s. Curry sauce and breaded meat strips were already commonly served in Japanese restaurants. Apparently a famous Japanese baseball player named Shigeru Chiba decided that ordering the two dishes separately was too much hassle and so a local restaurant started serving a dish with the 2 elements together on one plate.
Since then, it's become a popular export in Japanese restaurants all over the globe. Originally katsu curries were made with pork, however chicken katsu curry or vegan options have also become popular.
Our easy katsu curry recipe:
Ingredients (serves 2):
For the katsu:
2 chicken fillets
2 eggs
50g plain flour
100g breadcrumbs
For the curry sauce:
1 onion
1 carrot
1 large garlic clove
2 cm piece of ginger
2 tsp mild curry powder
1 tsp turmeric
1 tsp tamari sauce
1 tsp sugar
300ml vegetable stock
1 tbsp plain flour
Method:
Step 1, Prep your vegetables:
Start by finely chopping your onion, carrot, ginger, and garlic, don't worry about being too neat as it's all going through a blender later. Simmer your chopped ingredients in a pan with a small amount of cooking oil. Once the onions have softened (about 5 minutes) add the turmeric and curry powder and leave the pan on a low heat for another 5 minutes.
Step 2 Make your curry sauce:
Stir flour into the pan with your veggies before pouring over the vegetable stock and adding the sugar and tamari sauce. Blend the sauce to remove any lumps (a handheld blender is easiest) and leave on a low heat until needed.
Step 3 Prep your katsu:
First cracks your eggs into a bowl and roughly beat them. Taking your whole chicken fillets coat each in flour and then soak them in the egg so they're completely coated. Roll the fillets in the breadcrumbs making sure all sides are well covered.
Step 4 Cook your chicken:
Heat a small amount of oil in a pan and then fry your chicken fillets for around 4 to 5 minutes on each side. The outside should be golden brown and crispy. Take the chicken out of the pan and cut it into strips. The centre of the chicken should be soft and flaky.
Step 5 Serve:
Place your katsu strips on a plate and drizzle a generous serving of your curry sauce across the top. We like to serve ours with rice and a side of seasonal vegetables.
Is katsu curry spicy?
No, unlike Indian curries a Japanese curry sauce is normally mild with a sweet and savoury taste.
Is katsu curry good for you?
The curry sauce is vegetable based and full of nutrients, plus if you're making it at home, you can control the amount of sugar and salt that you add in. We recommend using a low-salt tamari or soy sauce to get the umami flavour while staying within your daily recommended amounts.
The carrots and breadcrumbs on the outside of the katsu do mean that it's higher in carbohydrates than some other dishes. If you are looking for a low-carb meal, you can also try using ground almonds and seeds in place of breadcrumbs for a lower calorie option that still has that delicious crunch.
About Powermeals
Our mission is to make healthy and quality eating easy for everyone. We produce home cooked, ready-made meals and deliver direct to your door in a weekly box.