What are the best keto-friendly snacks?

Isabel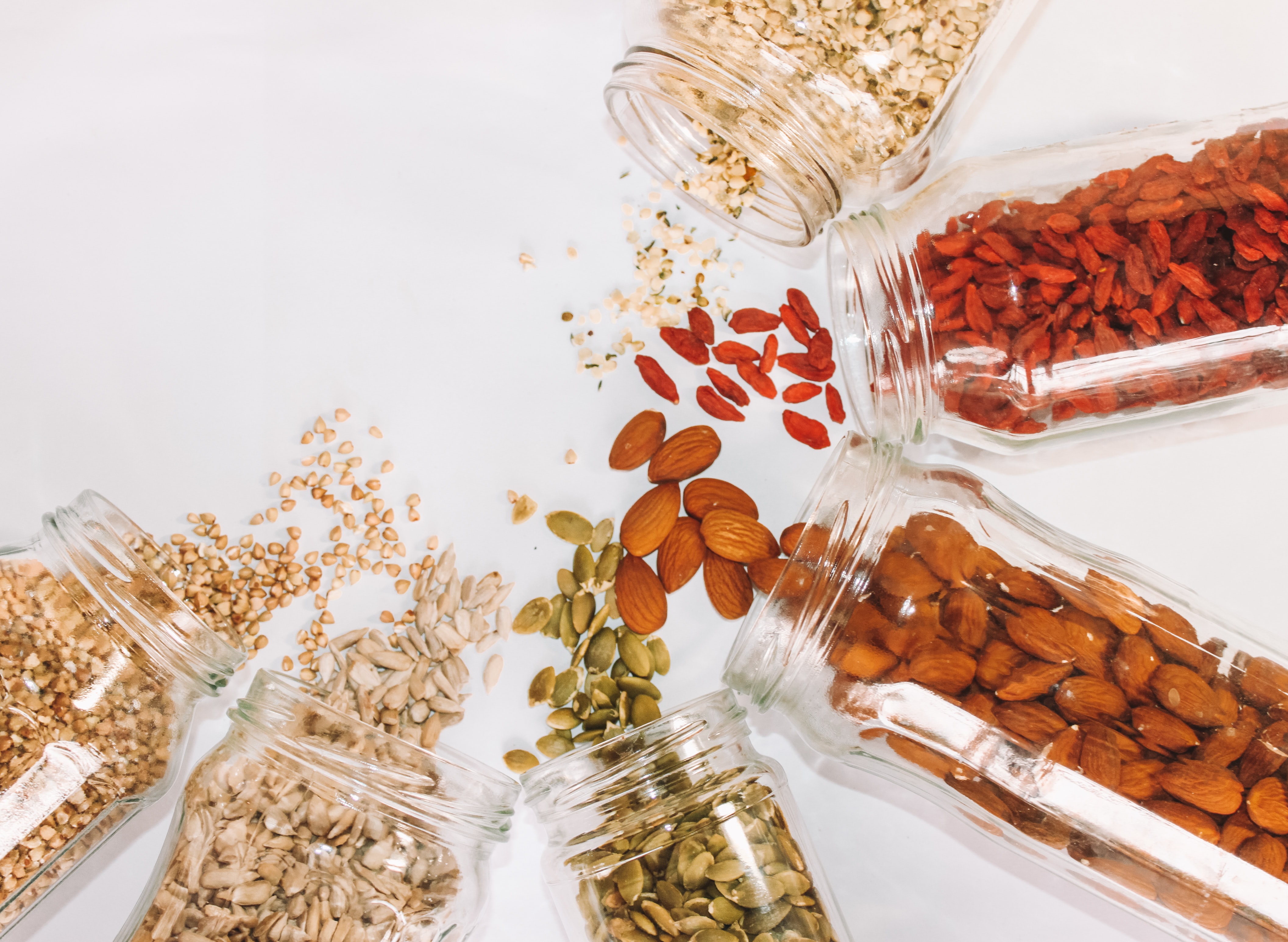 Starting out on a low-carb diet can be tough. While a keto diet doesn't have to leave you feeling hungry it can be difficult to know what to reach for when you feel your stomach rumbling. Below we list our top 20 keto-friendly snacks.
Our top 20 keto-friendly snacks
Whether you're at home or rushing between meetings, there are plenty of options for snacks that will work for you, without harming your dieting goals.
Easy keto snacks to make at home:
Miso soup or bone broth (2.5g for a large bowl)
Quick to prepare, all you need to do is add miso paste to boiling water for a tasty soup to satisfy your appetite.
Avocado with vinaigrette (9g for a half avocado)
Cut an avocado in half and add a dash of olive oil and vinegar in the hole where the pit used to be. Eat with a spoon for a flavourful and filling snack.
Coconut yoghurt with chia seeds (2.8g per serving)
Swap regular yoghurt for coconut yoghurt to reduce your carb content without limiting your options. Top with chia seeds for a bit of added flavour and crunch.
Zucchini fries (3.5g for a cup)
Zucchini fries can be keto safe as long as you avoid adding breadcrumbs. Instead, make zucchini fries by coating sticks of courgette with egg, covering them in grated parmesan and baking in the oven for about 20 minutes
Cucumber sticks (6g for a whole cucumber)
At only 6g of carbohydrate for a whole cucumber there's no need to hold back. You can also mix avocado with coconut milk, lemon juice and seasoning for a simple low-carb guacamole dip.
Hard boiled eggs dipped in celery salt (1.1g per egg)
Hard boiled eggs are a great vegetarian source of protein. Dip them in celery salt to add flavour without adding carbs.
Low-carb snacks for when you're on the go:
Mixed nuts (6g for a large handful)
We always recommend having some mixed nuts on hand if you're trying keto for the first time and need a pick me up. Look for mixes with a high proportion of pecan, Brazil and macadamia nuts which have the lowest carb content.
Extra mature cheese (0.4g for a healthy slice)
At only 0.4g per slice mature cheese can give you the boost of energy you need to get through the day. The high fat content can also help you feel full for longer.
Kalamata olives (3g per serving)
Available in most supermarkets, olives make an easy snack with no preparation needed.
Beef jerky (2.2g for a large piece)
Made of lean strips of meat that have been dried and salted. Beef jerky is a great source of protein with minimal carb, perfect for meat lovers.
Kale or seaweed crisps (2g for a small bag)
Also known as "nori" and typically used to wrap sushi these crisps can also make a delicious and easy snack.
Sunflower seeds (9g for a full cup)
Sunflower seed are low in carbohydrate and an excellent source of some vitamins such as vitamin E, vitamin B1 and iron. Excellent for supporting a vegetarian keto diet.
Cacao nibs (6g per 100g, next to nothing for a serving)
If you're craving strong flavours have a look for cacao nibs. Some very pure dark chocolate can also be keto friendly.
Keto snacks for when you're craving junk food:
Chicken wings

(3g per serving)
Chicken wings are keto friendly, even when covered in paprika, pepper and chili. Most of the carbs here will be coming from the dipping sauce so try and choose something without too much sugar. Mayonnaise or garlic mayo has only 0.6g of carb per 100g compared to ketchup at a whopping 26g.
Bunless burgers (around 4g in total)
Have your favourite burger fillings; beef, mature cheese, pickles, lettuce and tomato, just lose the bun and choose a sauce without too much sugar.
Burrito bowls with no rice (Can be as little as 2g per bowl)
Even when you cut out the rice and the wrap from a burrito you are still left with delicious salsas, tender meat and mature cheese. You can even order them from some fast food restaurants, such as Chipotle.
Grilled bacon (0.1g per slice)
Grilled bacon is a great choice for getting that delicious junk food flavour without all the junk food calories.
Snacks with close to 0 carbs:
Celery
Celery is famously low on carbs and calories so much so that some people believe it uses up more energy to digest than it contains.
Pork rinds
Oven baked pork rinds can be a delicious salty snack, but look out for packets advertising lower fat as they do contain significant amounts of bad fats.
Pepperoni slices
Not just good on pizza, pepperoni slices are virtually carb free and high in protein.
Starting on a low-carb diet?
If you're trying to stick to a low-carb diet why not try Powermeals? We offer a range of low-carb meals to support weight-loss or simply help improve energy levels throughout the day. Choose from a varied menu with less than 25g of carbohydrate in every filling meal as part of your low-carb meal delivery plan.