Top 10 healthy office lunch ideas

Isabel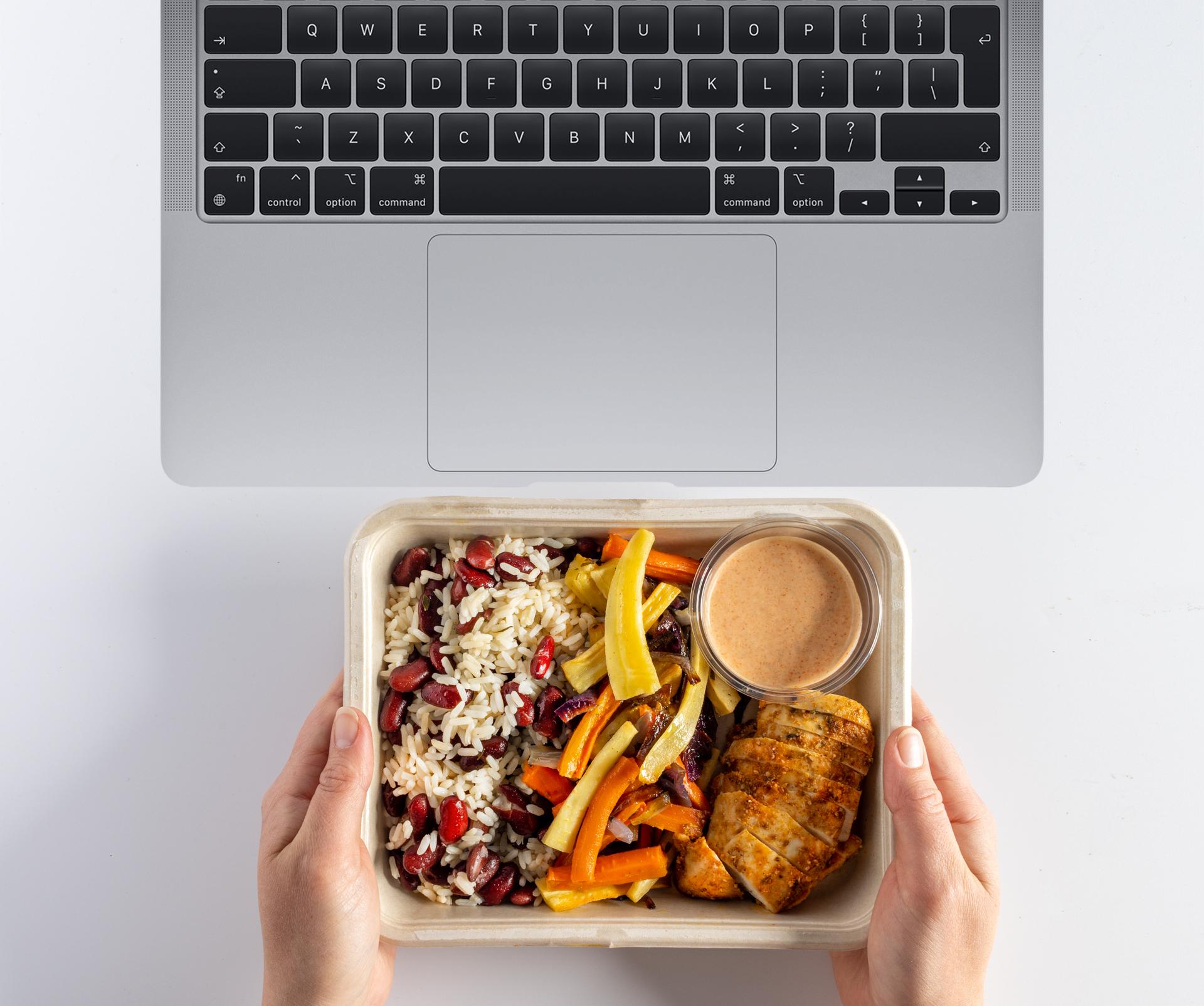 It can be hard to know what to pack an adult for lunch. But, taking lunch to work has many advantages, from saving money to eating healthier. Below we've summarised some of our favourite ideas on how to get a healthy lunch to the office, without spending hours cooking.
What should I prepare for lunch at work?
Before you decide what to make for lunch at work first you need to know what equipment you're working with, and how much time you have to eat. We've broken down our recommendations below so you have quick options for when you have no time, options that can be eaten cold or easy ideas to put together on site.
Easy lunches to take to work:
Work lunches can often be monotonous but it is possible to make lunch more interesting with just a bit of planning. So, get your Tupperware ready and prep these lunches the day before.
Curries can be a great options because they're simple to make in large quantities and they keep well, unlike a sandwich that's spent a couple of days in the fridge. Try out our tandoori chicken recipe served with basmati rice and chickpeas.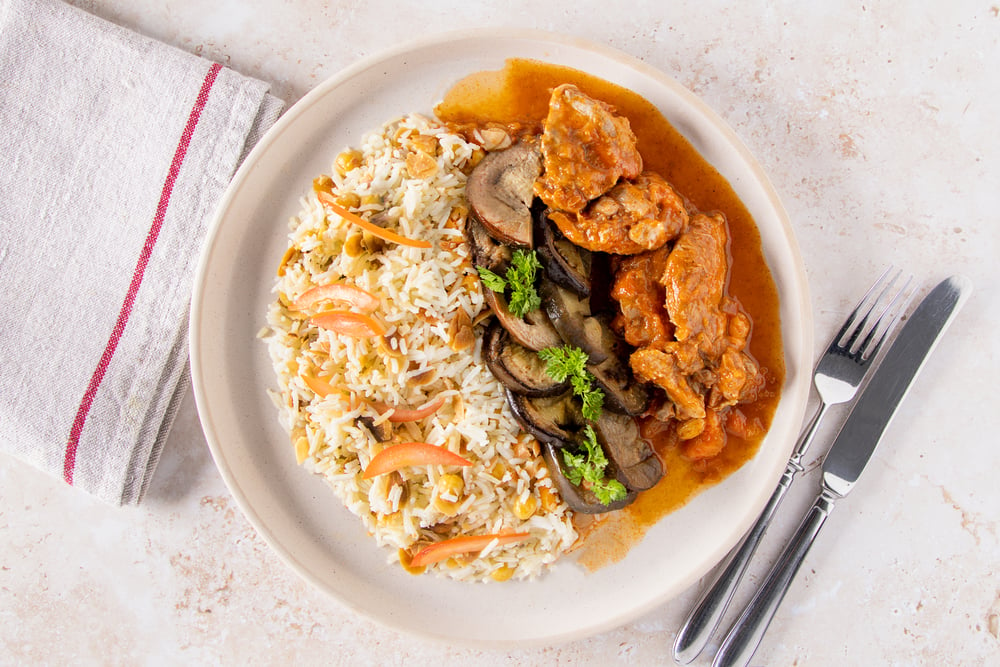 Another delicious curry option this time from Thailand, Massaman curry has a fragrant spiced coconut flavour that will fill you up without stinking out the microwave.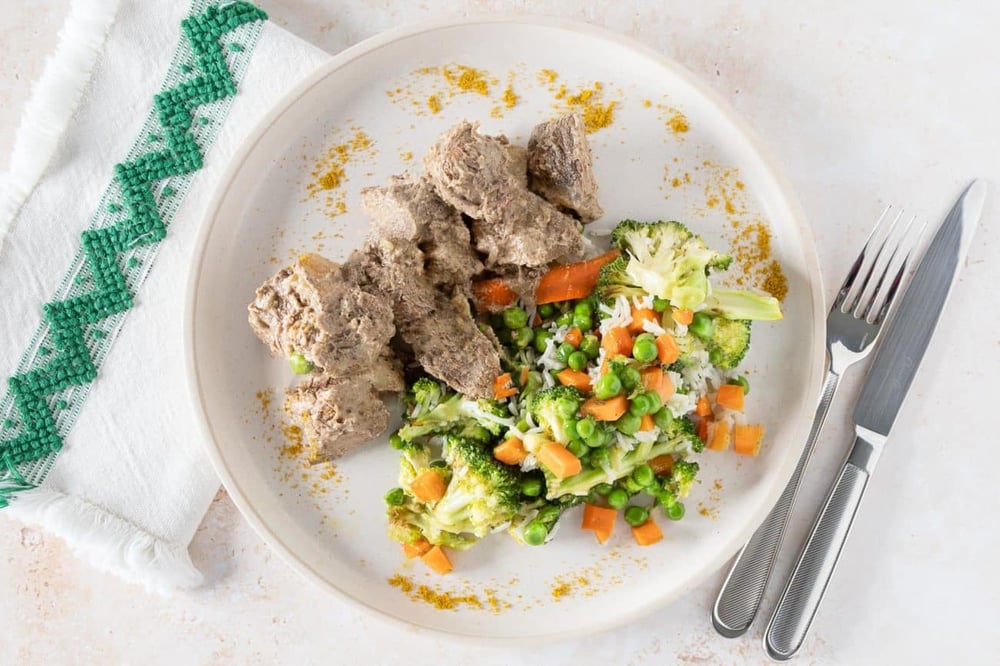 Cold lunch ideas
You may not always have the luxury of a microwave to reheat your dishes, but that doesn't mean you have to give in and eat soggy sandwiches. There are still plenty of healthy office lunches that you can enjoy cold.
Gnochetti with sundried tomato pesto
These little pasta shells covered in sweet and salty pesto can pack a real punch and taste great whether served hot or cold. For a healthier option we like to stir in some finely sliced curly cabbage to the pasta.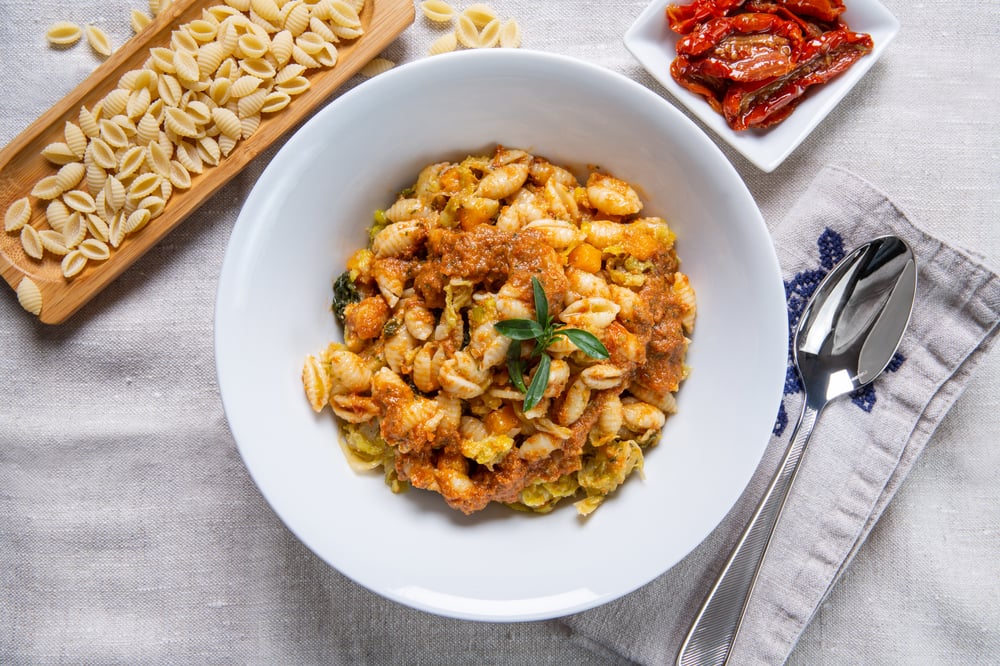 Courgette and red bean salad
This is a great option if you want something more filling and that will keep better than a typical green salad. Finely sliced courgettes, red beans and almond flakes are covered in lemon juice and grated parmesan for a fresh and delicious meal.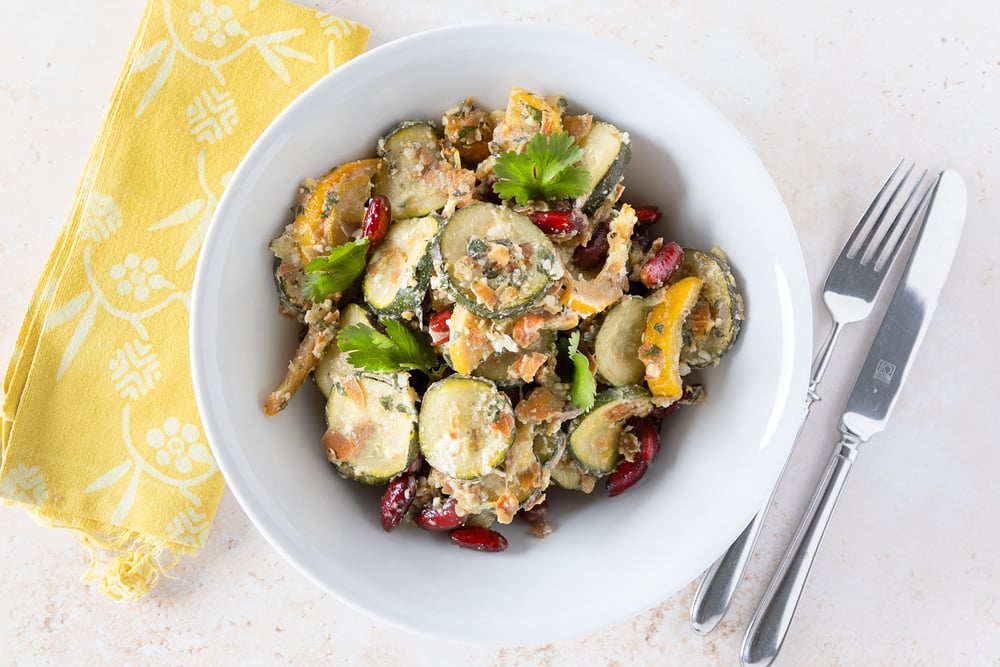 Meals for a lunch meeting
If you're eating in front of people there's even more to think about. You also need food that you can put down quickly if you need to start talking. We're keeping the Spaghetti Bolognese far out of sight.
Tacchino tonnato and mediterannean salad
Finely sliced turkey served cold with a tuna sauce makes for an easy meal to dip in to. Serve it with a salad of cubed courgette, cauliflower and sundried tomato for a delicious lunch that's a bit different from the norm.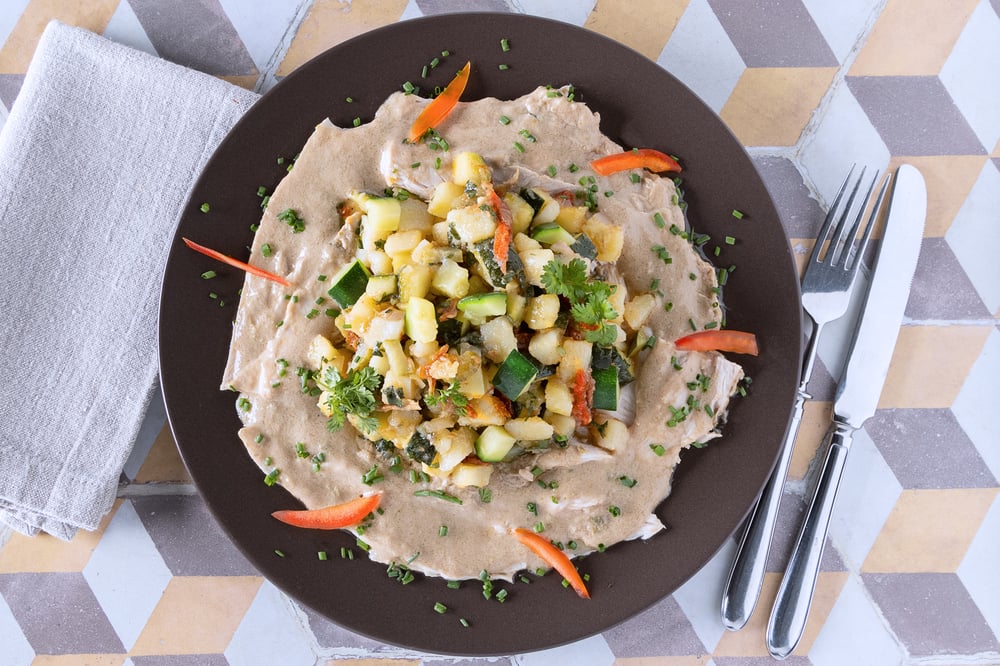 Russian salad
An upgrade to your egg mayonnaise sandwiches - this tasty dish of potato, egg and cheese cubes comes in easy bite-sized pieces, with a delicious mayonnaise based sauce.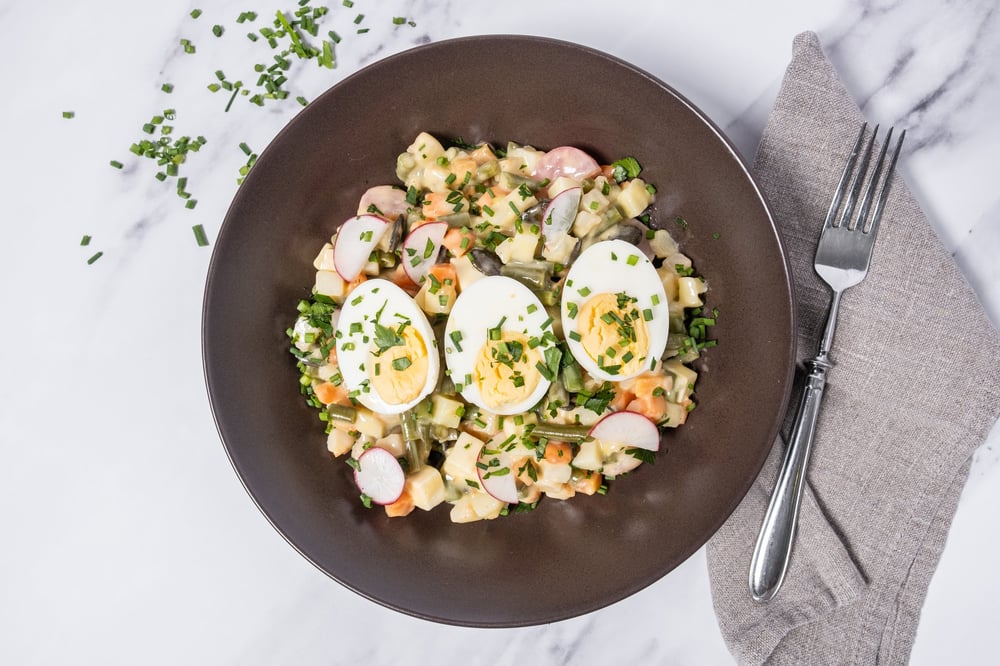 Easy meals to make at the office
If your office has a bit more kitchen space then you may want to be slightly more adventurous and do some basic meal prep at work. But what do you cook in an office? You need to make sure you stay clear of anything smelly – you don't want to be the person who makes the whole office smell like fish. It's also important not to take up too much space or create a lot of mess.
Couscous is a great option for something you can make in the office with minimal equipment. Just boil a kettle, pour it over a bowl of uncooked couscous, cover it and leave until all the water is absorbed. Then add your choice of toppings and flavourings.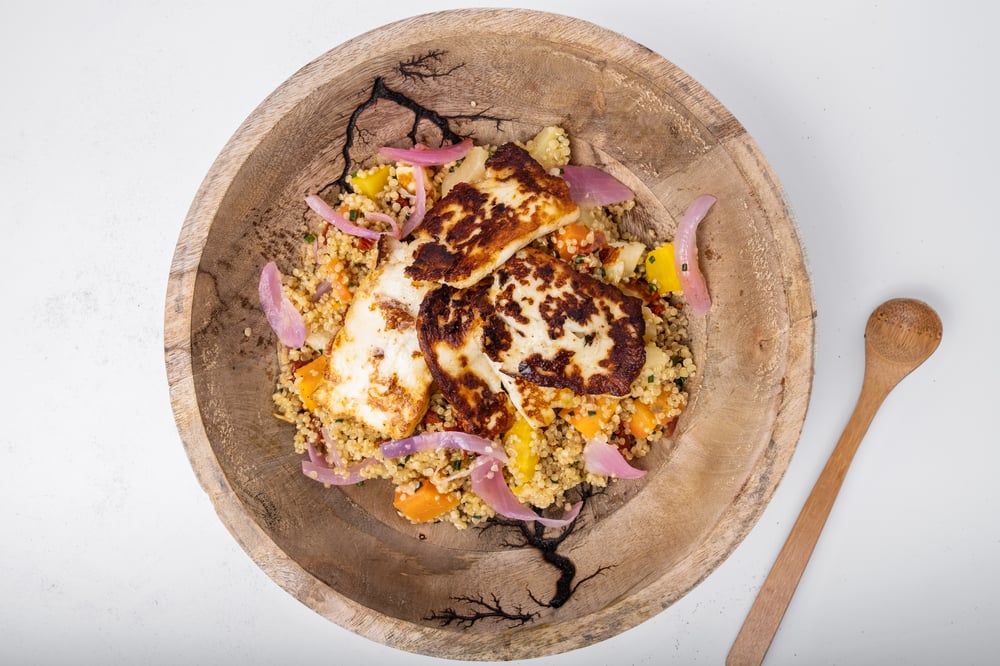 Ready-made ravioli
If you bring some pre-made ravioli to the office it can be ready in as little as 3 minutes boiling in a pan. Just pick your favourite flavours and a sauce to top it off.
Low-carb work lunches
One of the biggest problems with going to the local café for lunch is that you often end up eating high calorie options. Whether it's pasta dishes with added sugar or high carb baguettes it can make it hard to achieve your dieting goals. Here are some ideas for lower carb options.
Konjac noodles are a great low-carb alternative if you love noodle dishes. A stir-fry is an easy dish to make the night before with your choice of fresh veg, soy sauce, ginger and garlic.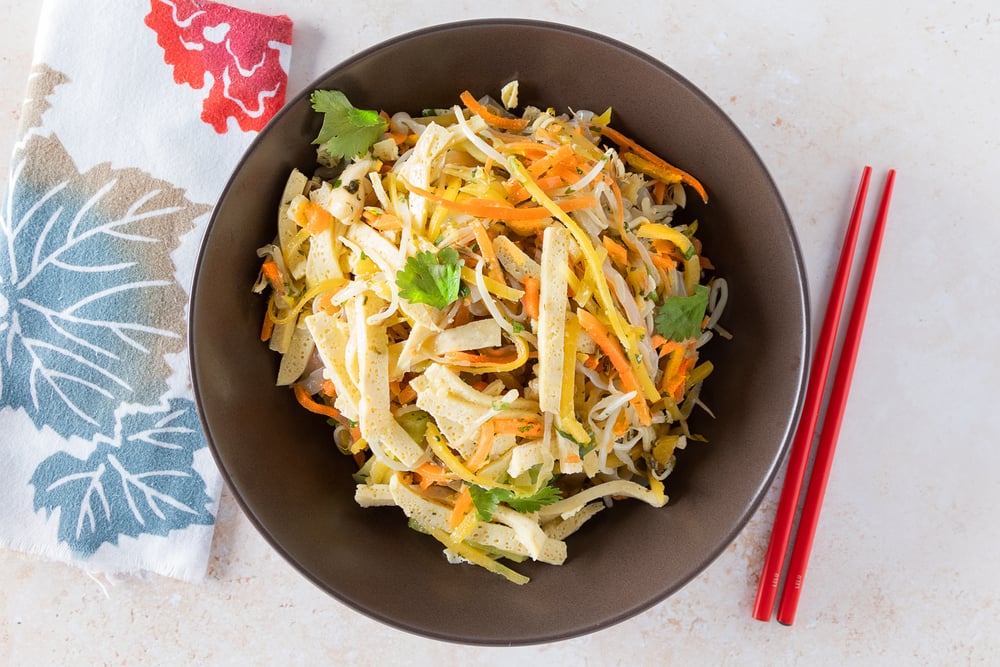 Another low carb twist for curry lovers. Create your normal favourite curry base but instead of basmati rice swap in grated cauliflower to cut down the carbs.
Gluten free office lunches
Whether you're bored of bread or intolerant to gluten you can still have a lot of options for lunch. In fact every option above can be made in a gluten-free version.
Why not outsource your office lunches?
Another option is to let us do everything for you. Choose from over 15 healthy ready-made meals each week at Powermeals. We deliver to your office in a weekly box so all you have to do is store the meals in a fridge and reheat them when you're ready. All it takes is 3 minutes in the microwave.