Tandoori chicken recipe with basmati rice and chickpeas

Isabel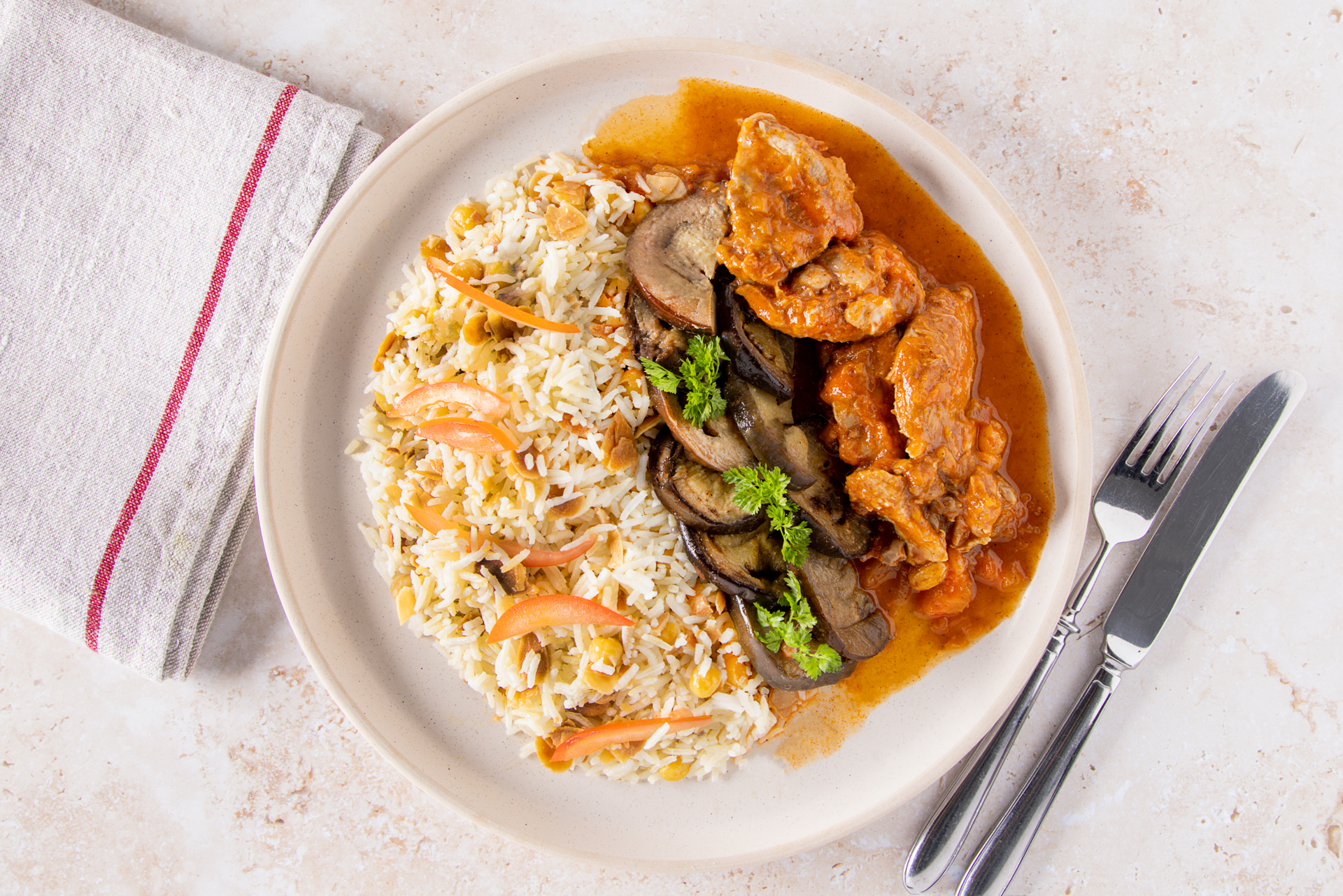 Enjoy the taste of India with our tandoori sauce. Perfect with chicken, or switch to a poached egg for a vegetarian alternative. Served with fresh basmati rice.
Ingredients (Serves 2)
2 chicken breasts
One tin chickpeas (400g)
150g basmati rice
2 laurel leaves
½ a cauliflower
100g fresh spinach
2 shallots
2 garlic cloves
A large handful of raisins

For the sauce:
1 large onion
One tin of chopped tomato
A 2cm piece of ginger
3 garlic cloves
One chili pepper
2 tsps ground cinnamon
One stock cube
Method
Step 1: Roast the chicken
Scour the top of the chicken breasts with a sharp knife and cover with a little oil. Season with salt and pepper, then loosely wrap the chicken in silver foil and place it in the center of a hot oven (200 degrees) for 18 minutes.
Step 2: Make your sauce
Roughly chop the onions, garlic, chili pepper and ginger then fry with a dash of olive oil, on a medium heat, until soft (around 3 minutes). Add the cinnamon and stir so all the ingredients are well coated. Tip in the chopped tomato and stock cube and blend, ideally using a handheld blender, until you have a fine sauce.

Step 3: Simmer
Slice your roast chicken into strips and add it to your sauce. Simmer for around 30 minutes.

Step 4: Cook the rice
Drain and thoroughly rinse the chickpeas. Add the chickpeas, the rice, 2 laurel leaves and 300ml of water to a pan and bring to the boil. Cover and simmer for approximately 10 minutes until all the water has absorbed.

Step 5: Prepare your sides
Slice the cauliflower into small florets (around 1 cm squares). Finely chop your garlic and shallots and fry with the cauliflower and a dash of oil in a hot pan. After about 5 minutes turn off the heat and stir in the spinach allowing it to wilt.

Step 6: Serve

For the final 2 minutes add your raisins to your simmering chicken. Serve the chicken on a bed of rice and chickpeas with your spinach and cauliflower on the side.
About Powermeals
Our mission is to make healthy and quality eating easy for everyone. We produce home cooked, ready-made meals and deliver direct to your door in a weekly box.