Meal prep: A beginner's guide to stress-free, healthy meals

Isabel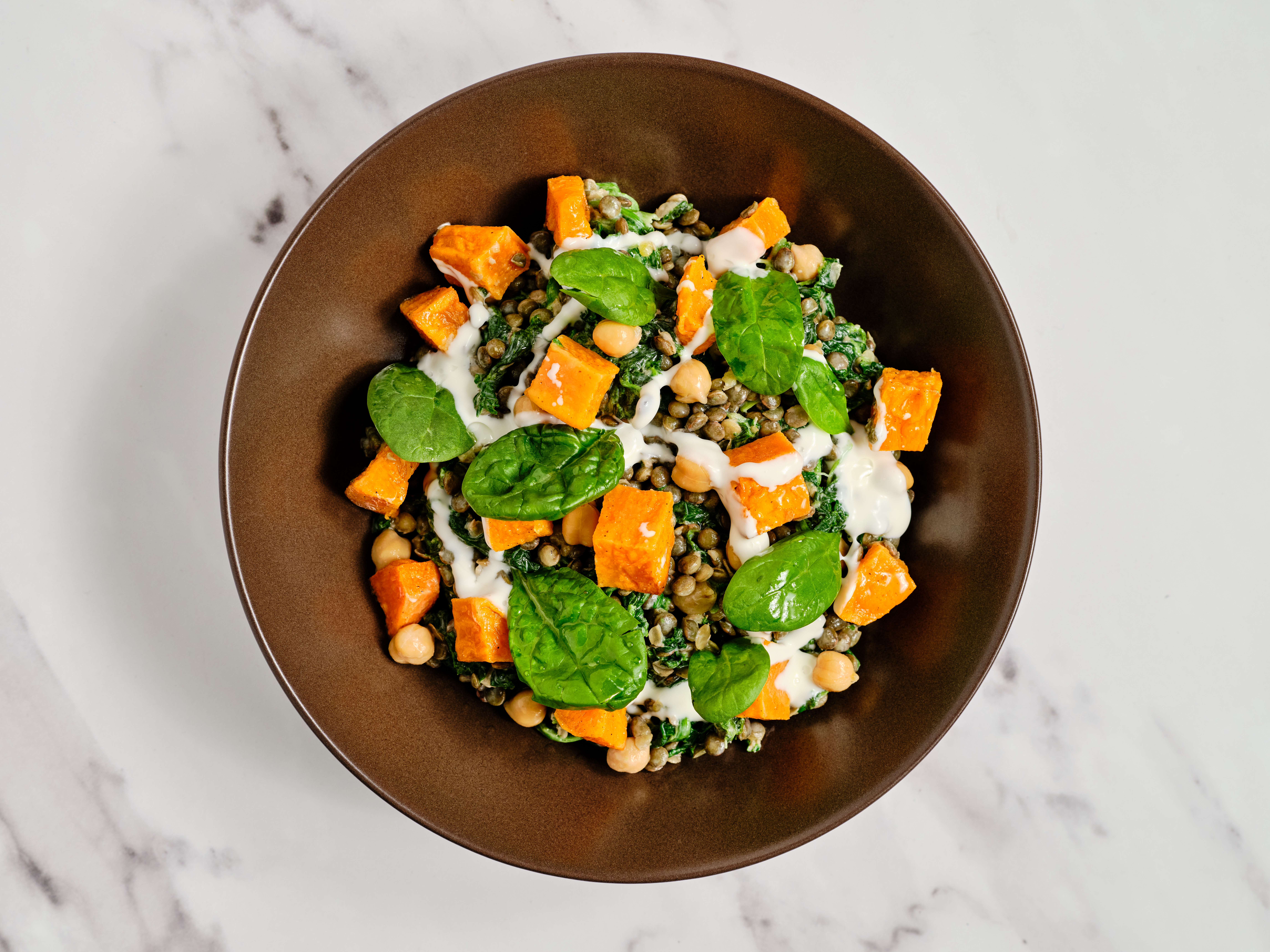 Meal prep is the practice of preparing your food in advance for several meals. Having a few dishes ready to go in your fridge can make life a lot easier if you have a busy work week. Here are our tips on how you can get started.
What is meal prep?
People approach meal prep in different ways, from batch cooking recipes and freezing them for later to simply pre-chopping vegetables and storing them in Tupperware to speed up mid-week recipes.
If you don't like eating the same meal too often, with meal prep you can also prepare several different key elements (carbs, vegetables, and proteins) and then combine them to make different dishes throughout the week. For example, if you cook a large roast chicken at the weekend, you could reuse the cold chicken in a Caesar salad, and then make a chicken soup later in the week.
What are the benefits of meal prep?
There are many reasons why meal prep may be worth a try. Here are our top 5:
What are the disadvantages of meal prep?
There are a few disadvantages to trying to meal prep.
The best ingredients for meal prep
When you're planning to do a week of meal prep, you'll want to focus on foods with a long shelf life. Here are some of our recommendations for fresh and healthy ingredients that you can incorporate, and which won't go bad in your fridge. For meat eaters it's probably best to cook the meat earlier in the week when it's freshest.
What are some easy meal prep recipes?
If you're looking for some ideas for meals to prep in advance, check out the recipe section of this blog, or read our example menu below.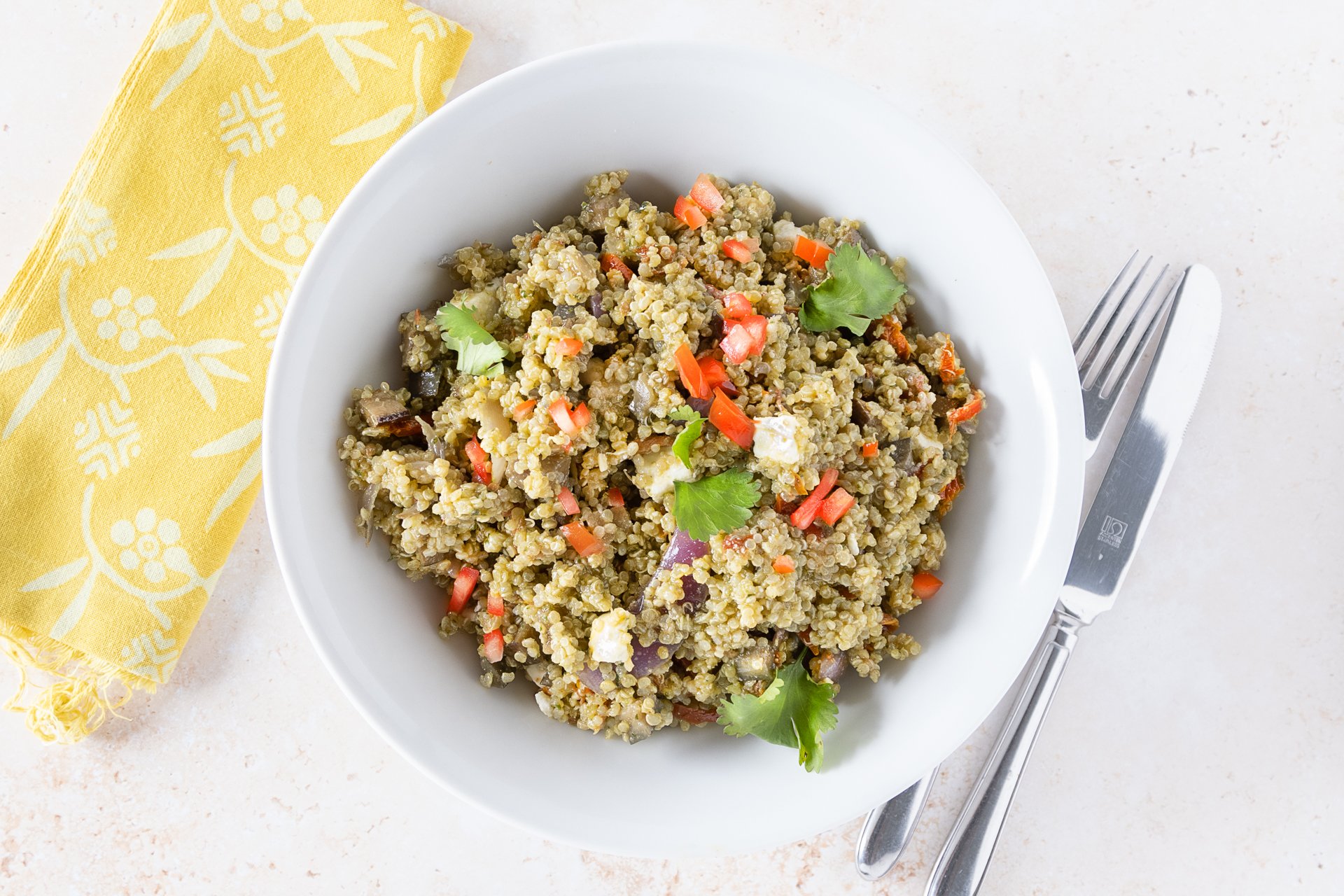 Example meal prep weekly menu
Here's a table to give you an idea of how different meal components are being re-used in new combinations:
Meal

Batch cooked

Leftovers used

Stores used

Penne Bolognese

Penne

Bolognese

Chopped onions

Chopped carrots

Parmesan

Chicken with teriyaki sauce

Chicken

Teriyaki sauce

Noodles

Spinach leaves

Halloumi, pineapple & quinoa salad

Halloumi

Quinoa

Chopped onions

Pineapple

Penne & Pesto

Pesto

Penne

Sundried tomatoes

Olives

Pine nuts

Chili con carne

Bolognese

Rice

Mexican spices

Kidney beans

Halloumi rice salad

Courgettes

Halloumi

Rice

Chopped onions

Lemon juice

Soy sauce

Pesto & chicken quinoa bowl

Quinoa

Chicken

Pesto

Chopped carrots

Chopped onions

Sundried tomatoes

Vegetable noodle stir-fry

Noodles

Teriyaki sauce

Chopped carrots

Chopped onions

Courgettes

Spinach leaves

Egg
What are the key points for healthy meal prep?
If you're starting to meal prep, it can be easy to focus on the meat and the carbs, but don't forget to include vegetables with every meal as they're an essential part of any diet. We recommend having a few options on hand that you can heat up quickly and serve on the side, like peas or spinach.
It's also important to make sure that you still get plenty of variety in your diet so you're getting all the different nutrients you need. If you're trying to do healthy meal prep, we don't recommend batch cooking one dish and eating it for 5 days in a row.
Can I use meal prep for weight loss?
Meal prep can be a great tool if you're trying to lose weight. Not only will it help you avoid high sugar foods but planning your menu will also help you be more aware of what you're eating. If you struggle with portion control, we recommend putting your leftovers aside as soon as they're cooked and before serving yourself. That way you can be sure to stick to your planned portions.
Meal prep delivery
If you don't want the hassle of planning and prepping your meals, but still want to save time in the week, give Powermeals a try. We deliver healthy, prepared meals direct to your door. All you have to do is heat them up.