High protein dinner: 3 healthy and nutritious recipes for a balanced diet

Isabel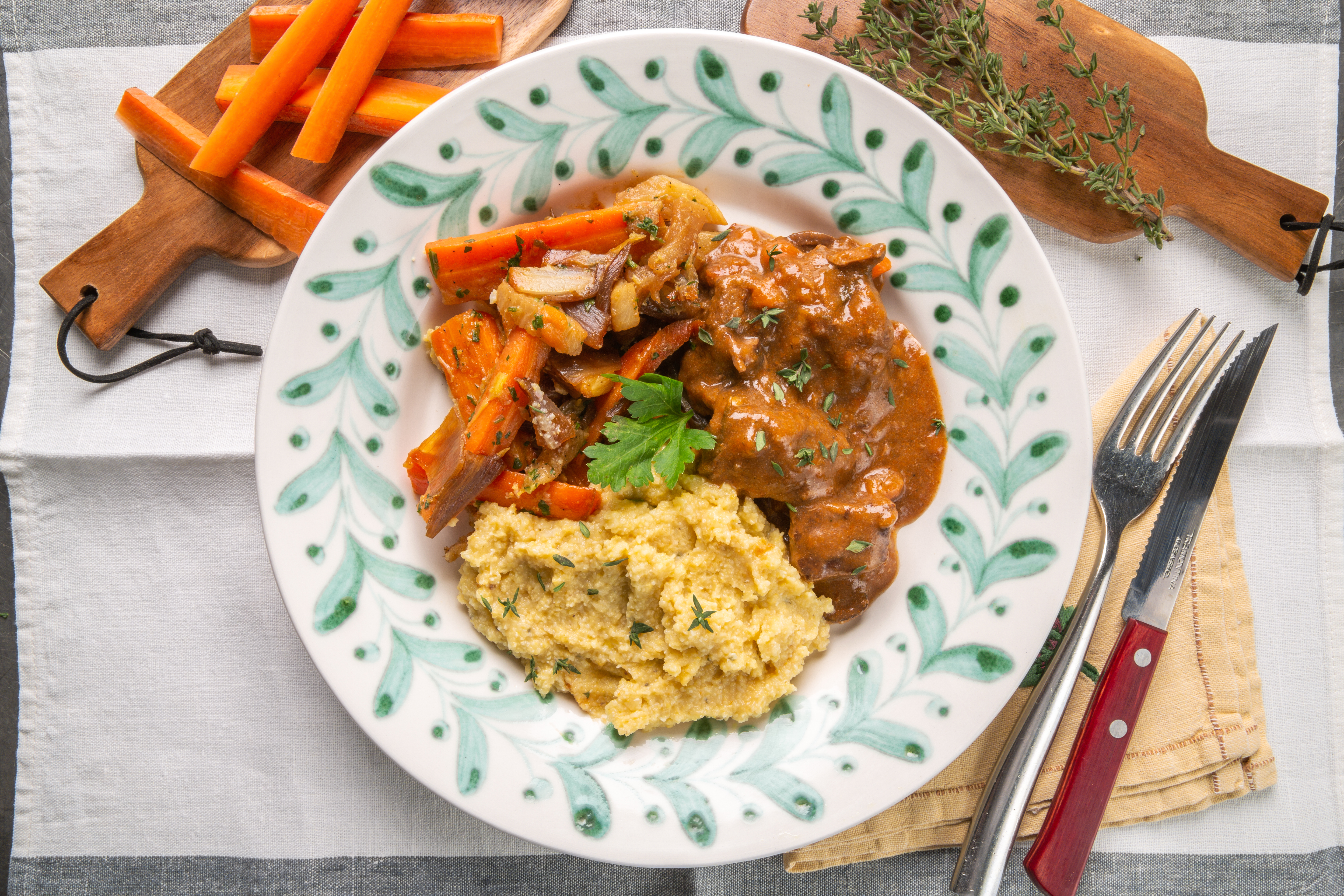 Proteins make up some of the most important building blocks of your body. As the main component of muscles, bones, organs, skin and nails, your daily protein intake should range anywhere between 10% to 35% of your calories.
A wholesome and nutritious high protein dinner doesn't need to be boring or expensive. With our easy-to-make and delicious high protein dinner recipes, you will have more time and money, whether you want to spend it with friends or hit the gym.
Indulge yourself in the aromatic flavours of salmon teriyaki, beef tagine and goat's cheese & chorizo omelette. Read on to find out how to prepare these easy and satisfying recipes, for a conscious nutrition and a healthier lifestyle.
Reasons you should eat more protein
A healthy balanced diet is the basis for a healthy, balanced lifestyle, no matter if you are a dedicated bodybuilder, work on your cardio or just want to get into slightly better shape.
It is scientifically proven that protein-rich nutrition correlates with bone health and can significantly boost your metabolism. In fact, a high protein intake can burn around 80 to 100 extra calories per day.
Also, high protein intakes lower your blood pressure and speed up your recovery from injuries. These are just some of the many reasons why you should include a high protein dinner in your daily diet.
| | |
| --- | --- |
| Age group | Protein needed per day (grams) |
| Children (1-3 years) | 13 |
| Children (4-8 years) | 19 |
| Children (9-13 years) | 34 |
| Girls (14-18 years) | 46 |
| Boys (14-18 years) | 52 |
| Women (over 19 years) | 46 |
| Men (over 19 years) | 56 |
The best recipes that are high in protein
Our recipes for your high protein dinner contain all the valuable ingredients your body needs, plus an extra boost of protein. No matter whether you like seafood, fish or poultry, our recipes have something for everybody: we start with salmon teriyaki, followed by beef tagine as well as goat's cheese & chorizo omelette for a nutritious and delicious high protein dinner.
Salmon Teriyaki
Try our delicious and protein-rich teriyaki sauce recipe and the Salmon Teriyaki recipe at ChefSavvy.
Required ingredients:
1 tablespoon oil
4 skinless salmon fillets
½ teaspoon ginger minced
¼ cup low sodium soy sauce
1 clove garlic minced
⅛ cup water
1 teaspoon cornstarch
2 tablespoons brown sugar
1 tablespoon rice wine vinegar
1 teaspoon sesame oil
1 tablespoon water
The steps of the recipe:
Prepare the marinade: Take a bowl and add ginger, sesame oil, soy sauce, 1/8 cup water, garlic, brown sugar, rice wine vinegar.
Add half of the marinade to a small saucepan and set aside. The other half is placed in a ziplock bag together with salmon fillets for 30 minutes.
Take a skillet and heat oil. Add salmon fillets and cook for about 3-4 minutes on each side.
Simmer the remaining marinade in the saucepan. Whisk the cornstarch and water inside a small bowl. Add the mixture to the marinade and whisk again.
Serve and enjoy.
Nutrition facts (per serving):
316 calories; protein 34g; carbohydrates 7g; fat 15g
Beef Tagine
Check out this wholesome beef tagine recipe at Jamie Oliver.
Required ingredients:
600g stewing beef
1 onion
½ bunch of fresh coriander
Olive oil
400 g chickpeas
400 g plum tomatoes
800 ml organic vegetable stock
800 g butternut squash
100 g prunes
Black pepper
Sea salt
2 tablespoons flaked almonds
1 tablespoon spice mix (ras el hanout)
1 tablespoon ground cumin
1 tablespoon ground cinnamon
1 tablespoon ground ginger
1 tablespoon sweet paprika
The steps of the recipe:
Create your spice rub: Mix the spice mix, ground cumin, cinnamon, ginger and paprika in a small bowl, add black pepper and sea salt.
Take a large bowl, put the beef inside and add the spice rub. Cover with cling film and put in the fridge overnight.
Peel and finely chop the onion, and chop the stalks of the coriander leaves.
Medium heat oil in a tagine, add the meat and fry for 5 minutes. Add onion and coriander stalks, fry for another 5 minutes.
Add the chickpeas and tomatoes, pour 400ml of stock and stir. Boil, afterwards cover and reduce to a low heat for 1½ hours.
Deseed and chop the squash into 5cm chunks, then destone and tear its prunes. Toast almonds in a dry frying pan until they are lightly golden and put them into the bowl.
Add squash, prunes and remaining stock. Stir everything gently, add the lid back on and continue cooking for another 1½ hours.
Remove the lid and check the consistency.
Serve and enjoy.
Nutrition facts (per serving):
548 calories; carbohydrates 48.7g; protein 46.4g; fat 19.6g
Goat's cheese & chorizo omelette
Check out the easy and delicious goat's cheese & chorizo omelette recipe at BBC goodfood.
Required ingredients:
2 eggs
1 handful of snipped chives
1 teaspoon sunflower oil
Chilli flakes
Slices of chorizo
1 slice of crumbled goat's cheese
The steps of the recipe:
Beat eggs in a bowl
Stir in most of the chives and season.
Take a frying pan to heat oil. Fry the chorizo together with the chilli for roughly 3 minutes.
Take a bowl and mix the chorizo with the cheese.
Cook the eggs in the pan for about one minute, swirl the eggs with a fork once they start to set.
Put the cheese mix over half the omelette, top with chives, flip the other side over the filling.
Wait 30 seconds, until the cheese starts melting. more until the cheese starts melting.
Serve and enjoy.
Nutrition facts (per serving):
309 calories; carbohydrates: 1g; protein 22g; fat: 24g
Tips on increasing your protein intake
It has never been easier to ensure a healthy, balanced diet. The following tips help you increase your protein intake on a daily basis.
If you need a small snack, choose high-protein cheese such as ricotta, cottage cheese or Parmesan, just to name a few.
Replace low-protein breakfasts, such as toast, bagels and cereals with eggs to gain high quality protein alongside selenium and choline.
If you don't have the necessary time to prepare your food and ingredients, make use of our convenient

meal delivery

service.
Almonds contain about 6 grams of protein in one serving, which makes them ideal to sprinkle over yoghurt, salads and many more dishes.
Use protein powder to create your own healthy protein shakes.
Peanut butter offers multiple health benefits, such as a decreased appetite, fat burning, and lower blood sugar levels.
While increasing your protein intake, reduce your carbs with our

low-carb meals

.
Conclusion: Your high-protein diet starts today
Healthy, balanced nutrition has never been easier. The Internet is full of delicious high protein dinner recipes that help you receive the optimal amount of protein on a daily basis. But even if you don't have the time to cook your high protein dinner, we've got you covered.
Our healthy premade meals are not only delicious, but provide you with all the necessary ingredients for a healthy, balanced lifestyle while saving you time to spend on more important things. Our fresh, ready-to-eat meals are delivered weekly and we offer fully flexible subscription plans. Your high-protein diet starts today!
FAQ
Are high-protein meals good for weight loss?
Eating proteins in combination with exercise helps you build muscles, which in turn burn calories throughout the day. Our high protein meal delivery and plenty of exercise combined with our weight loss meal delivery is the best basis for your diet.
What kinds of foods are high in protein?
A high protein concentration can be found in lean meats, such as beef or lamb and poultry, such as chicken or turkey. Fish and seafood as well as dairy products are also rich in protein. Or check out our blog for more vegan and vegetarian protein options.
Is it better to take protein powder or eat real food?
Even though protein powder has a higher concentration of protein, it lacks other valuable nutrients found in meats, poultry, fish and dairy products. Therefore, protein powder can help when added to your regular diet, but cannot replace it.